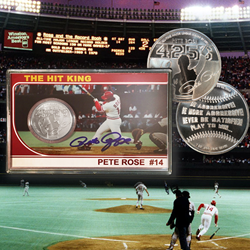 THE WOODLANDS, TX (PRWEB) December 13, 2016
Known fondly as "America's Pastime," baseball is deeply ingrained in our culture, and its players are heroes among our people--one such hero being Pete Rose. Acquiring the nickname "Charlie Hustle" during his rookie years, Rose lived up to his name even after retirement, founding the Hit King Baseball Academy to teach, train and demonstrate solid baseball skills, through coaching and sound leadership.
With a career that spanned 23 years, Pete Rose played every game with the charisma and energy he became known for. Born and raised in Cincinnati, Ohio, Rose's and his father's love for baseball carried him on to a promising career for his hometown team: the Cincinnati Reds. From his first major league game on April 8, 1963, to his last on August 17, 1986, hit-after-hit, Pete Rose ensured the crowd was entertained.
Among his many accomplishments in the sport, some of Rose's most notable are holding the record for playing more than 500 games at five different positions, 3 World Series wins, 17 All-Star Game wins, an induction into the Cincinnati Baseball Hall of Fame and his MLB-record 4,256 hits.
Founded by Rose and his experienced team, the Hit King Baseball Academy is committed to providing the necessary experiences young, talented sportsmen need to have a successful career and grow into their talent. With a combined corporate experience of over 50 years and a passion for the game: the Hit King Academy aims to improve the way its players approach and appreciate baseball.
Already rooted with ties to patriotic causes, GMRgold has partnered with the Hit King Baseball Academy to release a 1 oz. Silver Pete Rose "Hit King" Commemorative Coin for fans of baseball icon. "We couldn't be more excited to be partners with the Hit King Academy and the legend himself: Pete Rose!" says Marcus Johnson, CCO of GMRgold, "We've all grown up knowing of his impact on the game of baseball and his phenomenal record; being able to release the exclusive Silver Commemorative is a dream come true."
Each 1 oz. Silver Pete Rose "Hit King" Commemorative coin is encased in a protective holder, signed by the baseball legend himself, that features an "All-American" design showcasing Pete Rose and his career stats. Celebrating his induction into the Cincinnati Baseball Hall of Fame on June 24-26 of this year, the coin and holder make note of his latest achievement. Minted on the front of this one troy ounce .999 fine silver commemorative coin is a classic silhouette featuring his Cincinnati Reds number and his signature. Above the image is his all-time leading number of hits: 4,256. On the back is the classic Pete Rose quote: "Be aggressive; Be more aggressive; Never be satisfied; Play to Win!"
With the season just barely winding down after the Cubs' momentous win, the Hit King Academy and GMRgold are striving to keep the good spirits alive this holiday season with the release of the much anticipated commemorative. Visit GMRgold.com today to pre-order your 1 oz. Silver Pete Rose "Hit King" Commemorative Coin.
GMRgold, Inc. is one of the nation's leading numismatic firms, a trusted source for precious metal investing, including precious metal IRA accounts and coin collecting and selling. For more information, or to speak to a precious-metals expert on investing or owning numismatic or bullion coins, call 877-795-9585. For more information on these special pieces, visit http://www.GMRgold.com.
The Hit King Baseball Academy is an organization dedicated to providing experiences, training and leadership to aspiring young baseball players of all ages. Founded by Pete Rose and his passionate team, the Hit King Academy is committed to providing all that is necessary for its athletes to succeed in the competitive sport. To learn more about the Academy, its team and its mission, visit http://hitkingbaseball.com/.