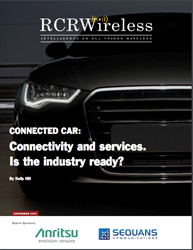 The partnerships and platforms that will enable the future of connected car services are being put together now.
Austin, Texas (PRWEB) January 17, 2017
RCR Wireless News spoke with experts across the connected car ecosystem for their views on current trends and challenges in connected car services, including PWC, T-Mobile US, Sequans Communications, Gemalto, Fortinet, Aria Systems, Airbiquity, SAP and more.
The report, entitled "Connected Car Connectivity and Services: Is the Industry Ready?", contains insight into the latest market predictions for connected car and what new services are emerging in the business-to-business, business-to-consumer and business-to-business-to-consumer markets. The connected vehicle space is one of most rapidly-moving segments of the internet of things, and it is its own specialized world. While auto companies increasingly tout vehicle connectivity as a feature, a host of enabling technologies and services are emerging to support – and reap the benefits of – the connected car.
From Bluetooth and Wi-Fi-connected infotainment, to location-based recommendations on restaurants, the services for consumers are only starting to come to market and in many cases are being delivered via smartphone application rather than embedded offerings. Meanwhile, over-the-air software updates and sophisticated telematics information combined with big data analytics holds promise for generating cost savings and new opportunities for revenues across many industries.
"I think everyone who touches the connected car is looking at a way to either make money or save money," said Craig Miller, VP of marketing for Sequans Communications.
Download this report to learn:

Some of the latest predictions on the growth of connected car
Notable connected car acquisitions in 2016
What leaders in tech, insurance and infotainment are saying about connected car services and opportunities
Emerging connected car service offerings from automotive OEMs
Bonus: Supplier guide for connected car companies
Watch the complimentary editorial webinar featuring:

Kelly Hill, Editor, Test and Measurement, RCR Wireless News
Rusty Lhamon, Senior Director – IoT Solutions, T-Mobile US
Craig Miller, VP Worldwide Marketing, Sequans Communications
Kenny Hawk, CEO, Mojio
"There are a lot of companies in tech, insurance, fleet management, big data and security who are looking to be part of the connected car service ecosystem," said Kelly Hill, editor at RCR Wireless News. "There will definitely be a role for the mobile network operator to get a piece of that pie, and the partnerships and platforms that will enable future connected car services are being put together now."
Download the complimentary report here.
About RCR Wireless News
Since 1982, RCR Wireless News has been providing wireless and mobile industry news, insights, and analysis to industry and enterprise professionals, decision makers, policy makers, analysts and investors. Our mission is to connect, globally and locally, mobile technology professionals and companies online, in person, and now on video. Our dedication to editorial excellence coupled with one of the industry's most comprehensive industry databases and digital networks leads readers and advertisers to consistently choose RCR Wireless News over other industry publications. http://www.rcrwireless.com