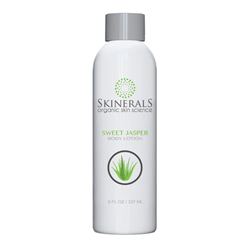 Organic body lotion provides deeply moisture to your skin and anti-aging benefits.
Jacksonville, FL (PRWEB) December 11, 2016
A brand new organic skincare line has been introduced to the online market. Skinerals Organic Skin Science has introduced 16 new products to it's existing line. "We started with a simple skin solution in 2014," explains Michael Schindele, creator of Skinerals, "And we wanted to supply more products to our customers that would provide safe and effective solutions for beauty and wellness."
Skinerals Organic Skin Science is dedicated to providing organic skin solutions to get back the skin you were born with. Every Skinerals product is entirely vegan, gluten-free and cruelty-free. Skinerals products are never tested on animals. Skinerals chooses organic ingredients over artificial chemicals whenever possible. All products are formulated without parabens, petroleum, propylene or butylene glycol, sodium lauryl sulfates, pesticides, phthalates, artificial dyes or synthetic fragrances.
Skinerals Organic Body Lotion boosts hydration in your skin, prevents flaking and dullness, and creates a protective layer of moisture. Only premium natural plant-based oils, essential oil blends, fruit and plant extracts are used in every product. It has anti-aging properties that enable your skin to regenerate, soften, and glow! Signs of wrinkles are also diminished with regular use. Not only does Sweet Jasper Body Lotion promote flawless young skin, but also reduces stretch marks, scarring, and cellulite.
Skinerals focuses on using Organic ingredients over non-organic whenever possible. Skinerals cares about your skin and donates a portion of every bottle sold to skin cancer research.
Every new bottle of Skinerals comes with a satisfaction guarantee.
To learn more about our products and to receive a sample, visit Skinerals.com