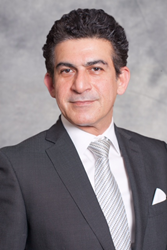 Chicago, IL (PRWEB) December 12, 2016
Gateway Foundation, Illinois leading non-profit provider of addiction treatment services today announced the appointment of Roueen Rafeyan M.D. as Chief Medical Officer (CMO). This position is integral to supporting the company's strategic growth and fulfilling its mission to provide state of the art care to individuals and families.
Dr. Rafeyan brings over 20 years of specialized experience to Gateway, having served as a medical director for psychiatric and substance use programs at leading Illinois healthcare institutions including Rush, Michael Reese, Resurrection and Presence Behavioral Health.
As CMO, Dr. Rafeyan is responsible for continuously advancing Gateway's wide array of services including Medication Assisted Treatment. He works closely with Gateway's team of experienced physicians and clinicians to deliver comprehensive high quality addictions, psychiatric and medical services and treatment as needed for each individual. Dr. Rafeyan's treatment philosophy includes providing a comprehensive assessment of medical and psychiatric comorbidities to render better outcomes, and a core belief that the disease of addiction goes beyond the individual and affects the entire family. Professional support and education of the family is as important as treating the individual.
"We are excited to be the first Illinois rehabilitation facility to introduce the addition of a Chief Medical Officer to our team," stated Dr. Thomas Britton, Gateway's CEO. "Dr. Rafeyan is exactly the type of leader that can help us continue to make a real difference in the lives of those we treat."
In addition to Dr. Rafeyan's extensive medical experience, he is also a diplomat of the American Board of Psychiatry and Neurology as well as the American Society of Addiction Medicine. He is currently on the faculty of Northwestern University and an active member of the American Medical Association, the American Psychiatry Association, the Illinois Psychiatric Society and Illinois State Medical Society.
About Gateway Alcohol & Drug Treatment
Since 1968 our goal has been straightforward: to help clients get their life back on track and achieve a life of sobriety, free from drug use and symptoms of mental illness, that is productive, socially responsible, and healthy. Gateway Foundation is the largest nonprofit treatment provider in the country that specializes in the treatment of substance use disorders, providing treatment for men, women, adolescents, and clients diagnosed with co-occurring mental health disorders.
Gateway's Community Division has treatment centers located throughout Illinois, including Carbondale, Chicago, Lake County, Fox Valley, Springfield, and the St. Louis Metro East area. These centers offer residential and outpatient treatment services for adults, teens, and adolescents accessed through insurance, state funding, and self-pay.
Gateway's professional clinicians help thousands of individuals successfully complete treatment by developing a personalized plan that treats the underlying causes of substance abuse—not just addiction to drugs or alcohol.
Learn more about insurance coverage, treatment options, or Gateway's confidential consultation at RecoverGateway.org or call 877-505-HOPE (4673).
Reporters and Editors, for more information, please call Leslie Colman, Marketing Director, at 630-776-5725.