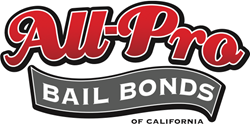 San Diego, CA (PRWEB) December 12, 2016
All-Pro Bail Bonds, a leader in the bail industry in California, is excited to announce its ten-year anniversary serving the California area with easy and affordable bail bond services. All-Pro Bail Bonds just released an infographic in simple, easy to understand terms, designed to help you understand the bail bonds process. This infographic includes colorful graphics and straight-forward text to walk you through the entire process, from the time your loved one is arrested, to the time your loved one walks out of jail.
This company's mission statement promises "To Provide Every Client Prompt, Professional Service at an Affordable Price." All-Pro Bail Bonds dedicates each day to learning how it can help clients by expediting the release process, upgrading its office procedures and processes, and adjusting its financing methods to help customers better.
The company goes above and beyond when helping people bail out of jail. When clients contact All-Pro Bail Bonds for bail bonds services, they should expect only the highest level of service.
All-Pro Bail Bonds has 22 locations throughout California. The company's services are available anytime 24/7. People in need of immediate, fast, and courteous bail bonds services are encouraged to call All-Pro Bail Bonds at 877-647-4701 today. For customers' convenience services are available in both English and Spanish.