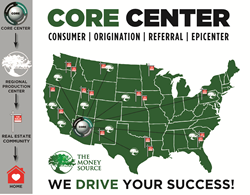 Melville, N.Y. (PRWEB) December 13, 2016
The Money Source, a rapidly expanding nationwide mortgage lender and loan servicer has hired John Brumund as their new Senior Vice President, National Distributed Retail Director.
In this position, Brumund will lead a new initiative to continue to grow their retail lending presence throughout the United States for The Money Source and drive pre-qualified mortgage leads to a nationwide network of Regional Retail Production Centers.
Brumund comes to The Money Source with more than 20 years of experience in national production within the retail and wholesale mortgage origination industry. He held executive-level positions at SWBC Mortgage and Pacific Union Financial, and was the Chief Technology Officer and Executive Vice President of Wholesale Lending at Paramount Residential Mortgage Group before joining The Money Source.
"John's experience and qualifications along with the respect that he has earned in the industry made him the perfect candidate to help continue to grow our retail channel," said Trent Ford, Executive Vice President of Retail Lending.
The Money Source's rapidly expanding Arizona offices and junior loan officer program will support the expansion, positioning the company to evolve and grow for years to come.
"We're always looking around the bend," said Darius Mirshahzadeh, CEO of The Money Source. "We know the retail sales model is evolving and we're engineering our platform for the next generation of homebuyers. We're looking to people, like John, to realize our vision for a new retail lending platform that empowers our sales teams and attracts buyers in a way that works for both us and the customer."
Brumund's hire follows a year of nationwide expansion for The Money Source, including hiring more than 500 new employees, opening offices in Santa Ana, Calif.; Phoenix, Ariz.; Meriden, Conn. and funding over $1 billion in new loans in one month. The Money Source was recently honored as a Financial Services Silver Stevie® Great Employers award winner. This honor follows recognition in May, when The Money Source was awarded the Bronze Stevie® Award for "Management Team of the Year."
About The Money Source
The Money Source is a national mortgage lender and mortgage servicer, with offices in Santa Ana, Calif.; Walnut Creek, Calif.; Melville, New York; Tempe, Ariz.; Phoenix, Ariz.; Dallas, Texas; and Meriden, Conn. For more information on The Money Source, visit themoneysource.com