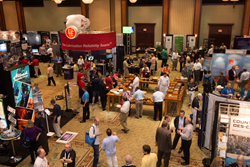 Users want an "All Maximo – All The Time" event and we plan to deliver it
Fort Myers Florida and Orlando Florida (PRWEB) December 12, 2016
Reliabilityweb.com announced the launch of the MaximoWorld Conference to be held August 1-3, 2017 in Orlando Florida.
According to Reliabilityweb.com CEO and Publisher Terrence O'Hanlon, "The Maximo User community has been positive in supporting the return of MaximoWorld as an independent stand-alone event. They want an "All Maximo – All The Time" event and we plan to deliver it. This event will include input and advice from two important advisory committees that represent the User Group Community and Vendor Community."
MaximoWorld will feature short courses, Keynotes and case studies from users and subject matter experts from around the world. An expo with world class Maximo service providers will also a central feature of the conference.
Special User Group Session Tracks Include:

Manufacturing Track
Life Sciences Track
Oil & Gas Track
Transportation Track
Rail Track
Facility Track
An active call for papers is currently underway and more details are available at the MaximoWorld web site at http://www.maximoworld.com