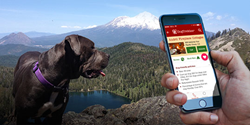 16 million trips are taken with dogs in California, each year
San Rafael, California (PRWEB) January 24, 2017
America's hotel marketers have gone to the dogs in choosing DogTrekker.com as the USA's best mobile app.
Of more than 1,200 entries in the Hospitality Sales and Marketing Association International's (HSMAI) 2016 Adrian Awards, DogTrekker.com's new mobile app was selected as the best Mobile App User Experience in the Digital Marketing category.
The DogTrekker mobile app guides travelers to dog-friendly lodging, restaurants, parks, trails, attractions and local and emergency services throughout California.
DogTrekker.com Co-founder Dave Kendrick said, "Our readers kept telling us that they needed a more mobile way to travel with their best friends when away from their homes and computers. So, with Madden Media, we created a mobile app that has over 8,000, 'triple-vetted' listings and 1,500 destination-specific stories, covering 16 regions, 58 counties and over 750 cities and towns."
"HSMAI's award is a major statement by leading marketers of their recognition of the growing importance of dog travel to the hospitality industry and the exponential growth of the mobile market. We estimate that over 16 million trips are taken with dogs in California, each year, and that's increasing as more destinations and lodging properties become dog-friendly."
"Another reason is that hotels, restaurants, wineries and outdoor attractions are doing a better job accommodating dogs, so it has become far less inconvenient and more enjoyable to travel with a dog. Plus, who wants to leave man's best friend behind?" he continued. "It was obvious, we had to design a way for dog travelers to access what we had online on their mobile devices, but do so in a way that fits those devices and the way people travel the state."
HSMAI's Executive Vice President, Fran Brasseux explained that the Adrian Award judges (all experts in hospitality, travel, tourism and media) were asked to evaluate each entry based on its own merit and success in achieving its objectives, with the DogTrekker mobile app winning the Gold Adrian.
Carl Cox, Madden Media's Vice President Client Experience added "The DogTrekker Mobile App is not only a trail-blazer in the dog-friendly travel space, but is one of the best travel apps out there. Period."
Kendrick described the honor as "doggone satisfying."
(30)
About DogTrekker: DogTrekker.com is a San Rafael, California-based media company that specializes in providing dog owners with multiple resources to make traveling in California (and beyond) safe and fun. Started in 2011, its website, newsletter, blog and now its mobile app have all received industry awards for excellence and innovation. In addition to travel, DogTrekker.com provides veterinary advice through its Vet Buzz blog and supports hundreds of rescue/adoption organizations with visibility, promotion and fund-raising programs.
About Madden Media: Madden Media partners with destination marketers to inspire travel in a constantly changing tourism landscape. Headquartered in Tucson, Arizona, Madden Media boasts a staff of award-winning designers, nationally recognized digital marketers, dedicated content-creators, and experienced developers to build top-of-the-line responsive websites, mobile applications, and other digital products.
About HSMAI: The Hospitality Sales and Marketing Association International (HSMAI) is an individual membership organization with more than 7,000 members worldwide, with 40 chapters in its Americas Region. It is the hotel industry's leading advocate for intelligent, sustainable hotel revenue growth. The association provides hotel professionals & their partners with tools, insights, and expertise to fuel sales, inspire marketing, and optimize revenue through programs such as HSMAI's MEET, Adrian Awards, and Revenue Optimization Conference. More is found at hsmai.org.