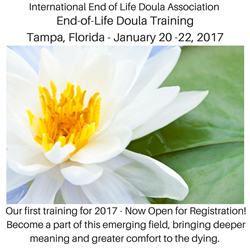 "The role of doulas is to walk alongside."
Tampa, Florida (PRWEB) December 12, 2016
The International End of Life Doula Association is receiving daily inquires from families, hospices and individuals seeking their service, program development or training. Based on this emerging profession, and demand, the number of end of life doula trainings scheduled by INELDA has doubled for 2017. Beginning the year in Tampa, Florida INELDA will conduct their end of life doula training January 20-22. The organization is offering trainings in twelve states over the next year based on the success of 2016 trainings.
Birth Doulas are one of the sector of professions who are moving forward with this expansion, adding this service to their current thriving practices. The proven, positive impact of this level of support in birthing is now being recognized within the dying process. The long stranding success and acknowledgment of birth doulas is fueling interest in this new profession.
INELDA is receiving numerous requests for program development from hospices who want to offer this level of care to their patients. The success of several ongoing programs, increased volunteer polls, patient satisfaction, and donations is prompting the interest. Extensive coverage in major publications is garnering attention, hospice clients, and their families are requesting this service, both privately and within facilities.
Hospitals are also becoming interested in this support, in 2016 INELDA developed the first program at a hospital in the United States and anticipates the medical community to take note of this new concept and success. Within the medical community, the growth, and increased awareness of the need and value of Palliative Care is also adding to this momentum. The conversation is expanding within the medical community regarding care at the end of life due in part by recent books, such as, Being Mortal, by Atul Gawande, MD and When Breath Becomes Air by Paul Kalanithi, MD.
INELDA is conducting the first training of 2017 in Tampa, Florida January 20 - 22, 2017. The training consist of 22-hours, beginning on Friday and completing on Sunday. Students will learn how toexplore meaning through legacy, the practice of deep-active listening, how to conduct specialized guided visualizations for symptom and pain control, and learn the signs of active-dying. The training will include how to help a dying person, and their family plan for the atmosphere around the bedside including touch, music, readings and ritual. This work is being recognized for bringing deeper meaning, and greater comfort to the dying and their families.
The training is open anyone who is interested in learning about the role and practice of end of life doulas. No previous hospice or medical experience is required. This training will be a transformative weekend filled with deep, meaningful work.
Preregistration is required, and space is limited.