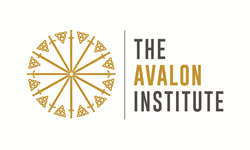 "Working with the Avalon Team was fantastic! Their Round Table Leadership model and assessments helped us establish greater connections and better communication with our millennial team members here in the DOD!"
(PRWEB) December 13, 2016
The Avalon Institute, a highly-anticipated new leadership and business development firm headed by US Air Force Brigadier General John E. Michel (Ret.) and Washington, DC-based Entrepreneur
Perry Smith, announced today that it will launch in early 2017.
The Avalon Institute's mission is to provide businesses, associations, government agencies, and all branches of the US Military with targeted strategies and assessments that address critical leadership development issues – especially disengagement among Millennials -- by exploring three key dimensions of human performance: Thinking, Being and Doing.
Central to this mission is the Avalon Institute's "Roundtable Leadership Model™," which is a mix of people-centric engagement models, coaching, educational programs and cutting-edge neuroleadership assessments. To date, the Institute's proprietary methodology has been remarkably successful in numerous engagements, including an integrated program with US Special Forces Command and Joint Special Operations University in Tampa, and via contracted services with the US Army, US Air Force, and numerous strategic partners in the private and government sectors.
By design, the Avalon Institute's approach aligns with the effective leadership models that General Michel developed over 26 years as a leader and innovator in the US Air Force, both at home and abroad. The approach also embraces the proven insights that Perry Smith gleaned across 24 years of team-building, coaching and business leadership success; most recently as founder of the popular Matchbox Food Group in the Washington, DC area.
"General Michel and I have worked diligently to build an outstanding group of coaches, teachers, mentors and strategic partners across a wide range of disciplines," commented Perry Smith. "This elite team has the vision, talent and skills required to help organizations resolve complex issues, and establish collaboration, inclusiveness, innovation, commitment and culture as the building blocks for increased employee engagement, and lasting organizational success."
For more information on the Avalon Institute, and for details on applying for Roundtable Leadership™ membership, visit http://avalonleadership.com or via direct email.
For additional opportunities, visit the Avalon Institute's sister entity Veteran Enabled Training and Technology Services (VETS) at http://www.vet2s.com. VETS is a service-disabled, veteran-owned small business positioned to work with federal, state, and local governments, as well as business entities of any size.