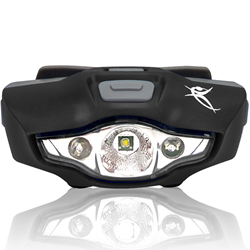 Our customers asked for a version of the SmartLite Ultra LED Headlamp in black -- in addition to the current Midnight Blue, Hot Pink, and Neon Green -- so, we responded with the addition of the new Jet Black model
Steamboat Springs, CO (PRWEB) December 13, 2016
SmarterLife Products® LLC has announced its expansion of the SmartLite Ultra LED Headlamp product line with the addition of the new Jet Black model, which is now available for sale on Amazon.com.
The SmarterLife Products® SmartLite Ultra LED Headlamp is an essential accessory for outdoor enthusiasts – runners, cyclists, hikers, campers, and photographers – anyone who enjoys the outdoors after the sun has set.
It features 4 white light modes – High, Medium, Low and Strobe – and 2 red light modes – Solid and SOS – all operated by a single, easy-to-operate button… even with gloves on. Powered by a single AA alkaline battery, it is convenient to carry a spare rather than a pocketful of multiple batteries.
And due to its 1.5-ounce weight and compact form factor, it is also the perfect tool for indoor use or as an emergency night light – reading, crafts & hobbies, and DIY home repairs. Now taking the dog for a walk, taking out the garbage cans, or shoveling snow at night is safe and practical during the evening hours.
It is so small that it fits easily in a nightstand in case of a power outage or other middle of the night emergency. Store one in your car's glove box for emergencies while traveling.
Co-founder, Tim DePuy, stated, "Our customers asked for a version of the SmartLite Ultra LED Headlamp in black -- in addition to the current Midnight Blue, Hot Pink, and Neon Green -- so, we responded with the addition of the new Jet Black model. As outdoor enthusiasts, we wanted a headlamp that was the very bright one you forgot you were wearing due to it compact size and feather-light weight. And we always listen to our customer feedback and respond with improvements and new product introductions."
The SmarterLife Products® SmartLite Ultra LED Headlamp is now available for purchase on Amazon.com and for a limited time is being offered at an introductory discount. Included in the box is the SmarterLife Products® SmartLite Ultra Headlamp (now available in 4 colors – Midnight Blue, Neon Green, Hot Pink and the new Jet Black), the patent-pending Comfort-Stretch headband, 1 Duracell AA battery, an easy-to-follow instruction booklet, and a bonus eBook "Tips for Running at Night".
Based in Steamboat Springs, CO, SmarterLife Products® sources or creates the very best eco-friendly fitness & health, travel, and lifestyle products for people who want to live smarter. The company was started when co-founders Jan & Tim DePuy realized that it was hard to find purposefully-made items that were good for people and good for the environment. While available in the marketplace, no one had brought them together into one place, which was the impetus for the creation of the company.