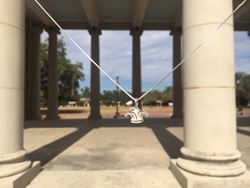 Our goal is to give back this Christmas season
New Orleans, LA (PRWEB) December 13, 2016
Sometimes it can be difficult finding the perfect Christmas presents for our loved ones. That's why Revival jewelry is making your search much easier this holiday season. Revival creates jewelry that gives to more people than just the gift recipient. With every sale Revival makes, they buy 4 meals for the homeless in New Orleans. "Our goal is to give back this Christmas season," says founder Jacob Pazos.
Revival's designs replicate and capture timeless symbols from all around our New Orleans and is the perfect Christmas gift for anyone who has a connection or memory they share with the city. From historical monuments like their Cathedral pendant to the Shotgun Double, they know just how to replicate the passion and beauty of every symbol in New Orleans. What makes these pieces even more unique is the fact that there are only 500 of each piece ever made, with their unique numbers engraved on the back from 1-500.
New Orleans is a city that holds lots of memories with the people who have encountered it and Revival has done a fabulous job in capturing symbols that represent those memories. As a beautiful solid silver keepsake, the 5 pendant designs (Cathedral, Shotgun Double, Bourbon Street, Jester Hat, and Gallery Home) represent the different personality facets of New Orleans. Revival has created the perfect New Orleans Christmas gift by combining a little piece of home with a whole lot of giving. Feel great about your philanthropic pendant while you feel great wearing a necklace that is as unique as you! Revival's gifts are a hot commodity this Christmas season and their supply is dwindling daily, so make sure to grab yours before you miss your chance.
To learn more view our website http://www.revivalnola.com