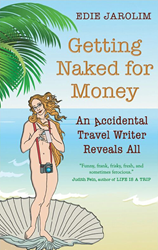 A tour de force as well as a tour of much of the world.
Tucson, AZ (PRWEB) December 13, 2016
Author, blogger, freelance writer, and recovering academic, Edie Jarolim has written an acerbic and racy memoir that's also inspirational – especially for late starters and single women.
When she was approaching middle age, Edie took a brave step, something many people just fantasize about: She quit her job in travel publishing, left her hometown of New York City, and moved to Tucson, Arizona, to become a writer.
This latest book by the author proves it was a smart move. Her wickedly funny prose spares no one she encounters, least of all herself.
GETTING NAKED FOR MONEY is named for, and includes the story of, an assignment by a woman's magazine to go to a nudist resort, undercover – and uncovered. The author isn't a typical travel journalist. She has no sense of direction, is afraid of heights, is a klutz, and had a phobia of driving, which she overcame.
She tells tales from both sides of the travel editor's desk.

As an in-house editor in New York (Simon & Schuster/Fodor's and Random House/Fodor's) and London (Rough Guides), she was privy to the inner workings of guidebook publishing. She rounded out her education as a media insider as the Travel and Food editor at Tucson's largest daily newspaper, the Arizona Daily Star.
As a freelancer, she authored three guidebooks, contributed to dozens of others, and wrote hundreds of travel articles, many for national publications. She knows how unglamorous being a travel writer can be – and how rewarding.
Judith Fein, author of LIFE IS A TRIP, calls GETTING NAKED FOR MONEY, "Frank, funny, frisky, fresh, and sometimes ferocious." She says, "It is a revelation to read about Edie Jarolim's career in travel writing and editing for some of the biggest players in the business. Go with this nice Jewish girl around the globe as she strips at a nudist resort in Palm Springs, has sex on the job in Egypt and Mexico, takes a perilous ride down into the Copper Canyon, drinks, laughs, cries. I had a hard time putting this book down. It's engaging on all levels."
Bella DePaulo, author of SINGLED OUT and HOW WE LIVE NOW, writes, "Edie Jarolim is a single woman leading a rich, complicated, exasperating, inspiring, and adventurous life of a writer. Fortunately for all of us, her insights, wit, and story-telling skills are superb. More, please!"
GETTING NAKED FOR MONEY is available in Kindle and paperback on Amazon.com.
For additional information, see http://www.ediejarolim.com/books/getting-naked-for-money/
Click here for a virtual press kit with author photos, bio, cover photos, Q & A, and excerpts.