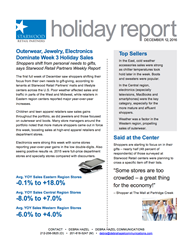 Shoppers are now buying the sweaters, books, outerwear and accessories that traditionally dominate gift-giving.
CHICAGO (PRWEB) December 12, 2016
The first full week of December saw shoppers around the U.S. purchasing apparel, jewelry and technology as their focus shifts from promotion-driven personal purchases to gift-giving, said Starwood Retail Partners in the latest edition of its exclusive Holiday Report, which reports tenant sales and trends throughout the company's national portfolio.
Department and specialty stores saw cold weather-related items sell especially well in the Eastern and Western regions, while more mature shoppers are purchasing high-end technology in the Midwest, Starwood Retail reports.
"With winter weather descending on much of the United States, shoppers are now buying the sweaters, boots, outerwear and accessories that traditionally dominate gift-giving," said Scott Wolstein, CEO of Starwood Retail Partners. "Meanwhile, our more affluent shoppers are purchasing technology including televisions, laptop computers and smartphones. Retailers are well-positioned for the last two weeks of the holiday season."
Retailers in Eastern region centers reported year-over-year sales gains of up to 18 percent. While snow and rain affected some projects in the Central and Western regions, Starwood's reporting retailers saw sales gains of up to 7.0 percent.
To compile the data for the report, Starwood Retail's mall staff requests year-over-year sales from approximately 28 center specialty tenants and department stores that best reflect overall results. Traffic figures are obtained through in-center wifi technology. Retailers also report on the best-selling items at their stores, giving an overview of what today's shoppers want and need. In addition, mall staff at seven centers representative of the portfolio are interviewing guests throughout the season for anecdotal evidence of their shopping plans and patterns.
The full report can be downloaded here.
###
ABOUT STARWOOD RETAIL PARTNERS
Starwood Retail Partners is not your father's - or grandfather's - landlord. We're acquiring, redeveloping, managing, leasing and operating the next generation of shopping centers for a new generation of shoppers: active, exciting community cores for an increasingly interconnected consumer.
Owned by Starwood Capital Group, we have grown our portfolio to 30 centers in 16 states across the United States since our founding in 2012, working with top-tier investment firms to help finance our properties, and employing the talents and skills of the most creative professionals in the business to maximize their value. We build solid relationships and partner with our retailers, and invest in innovative technologies that help our properties become more productive, our stores more exciting and our shoppers more engaged.
We understand that ultimately, as an owner, as an employer and as a citizen of our communities, it's not about property, it's about people. http://www.starwoodretail.com