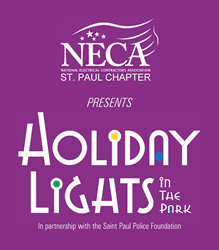 Holiday Lights provides the perfect setting for officers to interact with those they serve
Saint Paul, MN (PRWEB) December 12, 2016
The Saint Paul Police Foundation's annual Holiday Lights in the Park event at St. Paul's Phalen Park is doing more than illuminating the night sky. The Foundation said today that it hopes to strengthen the relationship between citizens and law enforcement, with uniformed officers from across the city on hand to interact with visitors for each evening of Holiday Lights' 40-night run.
With ongoing strains between citizens and law enforcement locally and nationwide, Holiday Lights provides the perfect setting for officers to interact with those they serve in hopes of further establishing a sense of partnership between residents and cops.
From 6 to 8 p.m. each evening, uniformed officers will be at the entrance to Holiday Lights greeting guests and thanking them for their support. In turn the officers hope that these few moments of holiday cheer and gratitude will help to strengthen the bond that is crucial to protecting and serving a city as diverse as St. Paul. Organizers hope that the opportunity for families, and especially children, to meet officers face-to-face will create new dialogues and cultivate higher levels of trust and cooperation.
Holiday Lights in the Park is the Midwest's largest outdoor holiday light display and has illuminated Phalen Park since 2008. The lights will burn nightly until January 1, 2017. Visitors tour the 60-plus displays in the warm confines of their vehicle, making weather a non-factor. More than 20,000 cars have visited Holiday Lights in the Park in each of its eight previous seasons making it the area's largest nightly holiday celebration.
Through Holiday Lights the Saint Paul Police Foundation raises funds to make the St. Paul area safer for citizens and law enforcement officials. Funds support community engagement efforts, safety equipment and department outreach.
In the past eight years, Holiday Lights has raised more than $400,000 for a variety of St. Paul and East Metro nonprofits. This year, proceeds from the event will go to support the work of the Saint Paul Police Foundation. Since its inception in 2005, the Foundation has raised nearly $5 million to help support numerous SPPD initiatives including providing lifesaving equipment, Shop with Cops, the Safe City Camera program, Cops and Kids program and a variety of resources for crime victims.
2016 Holiday Lights in the Park Police Meet and Greets at a glance:
What: Nightly visits from St. Paul Police Officers at Holiday Lights in the Park event.
When: Now thru January 1, 2017. Officers will be on hand from 6 to 8 p.m. each night.
Where: Phalen Park- 1615 Phalen Drive East, St. Paul, MN. Media is asked to enter via main gate to park.
Who: St. Paul Police officers and volunteers from the Saint Paul Police Foundation and other supporting organizations
About Holiday Lights:
Holiday Lights in the Park is a venture the Saint Paul Police Foundation with the sole purpose of creating a fun and affordable holiday event that raises funds to help protect the men and women who protect the residents of St. Paul. All of the net proceeds of the event will be distributed through the Saint Paul Police foundation to the St. Paul Police Department to provide enhanced safety and training to officers Holiday Lights in the Park is open nightly from November 22 to January 1, 2017 at St. Paul's Phalen Park. To purchase tickets you can visit our website: http://www.saintpaulpolicefoundation.com/, or for more information you can find us on Facebook: https://www.facebook.com/stpaulpolicefoundation or follow us on Twitter: https://twitter.com/StPaulPoliceFdn 
CONTACTS:
Donna Swanson, executive director Holiday Lights in the Park
651.306.5405 donna.swanson(at)saintpaulpolicefoundation(dot)com
Robb Leer, media liaison Holiday Lights in the Park
612.701.0608 Robbl(at)leercommunication(dot)com
###