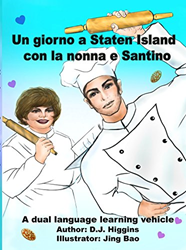 Two wonderful children's books just in time for the holiday season!
Staten Island, New York (PRWEB) December 13, 2016
Boulevard Books is proud to publish two new children's books by DJ Higgins and Lisa McFarland, talented first time authors.
Award winning filmmaker DJ HIggins has written a dual language book entitled, Un Giorno a Staten Island Con La Nonna E Santino. It is the story of Santino and his grandmother, a story of loyalty, love, passion and language. Santino and his nonna have a unique bond as she embodies an "old school" mentality that she passes down to her grandchildren. DJ HIggins has crafted a book that children of all ages will adore whether native Italian speakers or simply someone who wants a delightful introduction to the language.
Restaurateur and author of Henry Meets Capi the Lobster, Lisa McFarland, has penned a wonderful story of a show tune singing lobster and his best friend Henry. Kids will be thrilled by the adventures these two unlikely friends embark upon, and will keep reading to the very last page.
Boulevard Books is an educational publishing company that aims to publish the newest voices of the 21st century by empowering authors with ownership of their work. It is the only publishing company that offers authors by 100% royalties on every copy sold, print or digital. Founded by educator and author Avi Gvili in 2010, it aims to bring to the public the voices of the new century.