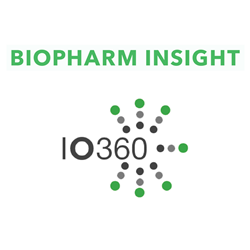 "With our experience in producing the Immuno-Oncology 360° NYC event, it was a natural fit to collaborate with BIOPHARM INSIGHT on co-developing the Immuno-Oncology: Filtering the Hype panel," said Valerie Bowling, Executive Director, The Conference Forum
New York, NY (PRWEB) December 13, 2016
The Conference Forum announced that the IO360° team is collaborating for the first time with BioPharm Insight to co-present a panel discussion on "Immuno-Oncology: Filtering the Hype for the Next Wave of Targets" at the same time as the 35th annual J.P. Morgan Healthcare Conference. The panel discussion will take place on January 9, 2017 at the Chandaran Art Gallery in San Francisco. Following the discussion, a networking reception will be open to registered attendees starting at 6:30pm.
"With our experience in producing the Immuno-Oncology 360° NYC event, it was a natural fit to collaborate with BioPharm Insight on co-developing the 'Immuno-Oncology: Filtering the Hype' panel," said Valerie Bowling, Executive Director, The Conference Forum
The panel features key opinion leaders (KOLs) and industry experts to address timely issues in the immuno-oncology field including, but not limited to, next-generation I/O therapeutics, check point inhibitors, combinations, pricing and reimbursement expectations, and more.
Panelists include:

Axel Hoos, MD, PhD, SVP Oncology R&D, GSK and Co-Chair for IO360°
Ira Mellman, PhD, VP Cancer Immunology, Genentech
Lindee Goh, Partner, Tapestry Networks
Omid Hamid, MD, Chief, Translational Research and Immunotherapy / Director, Melanoma Therapeutics, The Angeles Clinic
Ramy Ibrahim, MD, VP and Head of R&D, Parker Institute for Cancer Immunotherapy
The panel is moderated by Querida Anderson, Editor-in-Chief at BioPharm Insight.
Venue Information:
Chandaran Art Gallery
459 Geary Street
San Francisco, CA 94102
The panel and reception are complimentary, but there is limited seating. For more information, please go to:
http://www.biopharminsight.com/events/biopharm-insight-exclusive-event
About IO360°
The IO360° team at the Conference Forum works with lead advisors in immuno-oncology to present a program with a multiple perspectives to address the business aspects, clinical advancements and scientific data that will help accelerate the way cancer is treated. IO360° takes place in NYC on February 1-3, 2017. For more information, click here.
About BioPharm Insight
BioPharm Insight is a comprehensive life science market intelligence and analytics solution. With thousands of aggregated datasets and a global team of investigative journalists, BioPharm Insight is a central source of information. Please click here for their website.