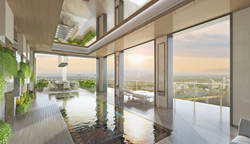 "The art of selling luxury translates to all sectors of the industry", Elena said, "I wanted to create a luxury showcase for my guests with brands that fit well with Mansions of Acqualina lifestyle."
Miami, FL (PRWEB) December 13, 2016
Last night Elena Vertlib from One Sotheby's International Realty, hosted an intimate soireé to introduce her multi-million dollar co- listing to a selected group of investors, art collectors and buyers. The highly desired ocean-front residence of the Mansions of Acqualina became a stunning luxury showcase lavished with high-end international art and design.
While touring the 4,609 sq ft condo, the affluent guest-list had the chance to meet the contemporary Cuban-American painter, sculptor, printmaker, and ceramicist, Carlos Luna whose rare and exclusive collection was displayed within the residence. Rooms elegantly styled by L'Excellence Designs in Miami Design District featured displays of the exclusive collection of Audemars Piguet Timepieces and Diamonds from Miami's 7th Generation Jeweler, Morays Jewelers.
In the mix, guests indulged in decadent hor d'oeuvres provided by private chef Isaac Perlman and sipped on first- class Champagne by Paris's BILLECART-SALMON.
During the evening, guests learned about Hadassah Organization through special guest speaker and Hadassah National Founders' Chair, Dr. Judith Mann, who spoke about Hadassah's initiatives of advocating health and the medical advances of the medical care and research facility of Hadassah Medical Organization in Jerusalem which is helping many worldwide.
Sponsors for the event were BILLECART-SALMON champagne and Luxury Brand Atelier LLC.