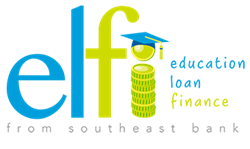 "We are excited to partner with Student Loan Hero and to be able to offer our competitive products with low rates and flexible terms to borrowers who are saddled with student loan debt." Barbara Thomas
Knoxville, TENN (PRWEB) December 13, 2016
ELFI Education Loan Finance (a division of SouthEast Bank), an industry leader in student loan debt refinancing and loan consolidation, is proud to announce its new partnership with Student Loan Hero. Student Loan Hero provides student loan borrowers with comparisons of companies who offer student loan refinancing and consolidation products. ELFI has joined their list of lenders, meaning borrowers will now be able to see ELFI's competitive rates and student loan refinancing information directly on the Student Loan Hero website.
Student Loan Hero's tools and calculators help borrowers become more educated about their student loans and refinancing options, helping them save money on their monthly payments or on the total interest costs over the life of the loan. To date, Student Loan Hero has been able to help over 100,000 people pay off more than $2 billion in student loan debt.
"We are excited to partner with Student Loan Hero and to be able to offer our competitive products with low rates and flexible terms to borrowers who are saddled with student loan debt. The Student Loan Hero site offers borrowers the opportunity to perform product comparisons in order to determine the ideal products and providers for their student loan refinancing needs," according to Barbara Thomas, Executive Vice President of SouthEast Bank. "Although the ELFI name is new in the education loan refinancing arena, our management team brings over 30 years of student loan experience to the table, and we know that borrowers want flexible terms, low rates, and excellent service. We are confident that our products are among the most competitive in the industry, backed by a company that delivers an outstanding customer experience."
Refinancing federal and private education loans with ELFI could lower a borrower's monthly payments or total student loan cost, offering variable rates from 2.19% APR and fixed rates from 3.49% APR. Guided by decades of experience in the student lending business, ELFI's student loan refinancing experts know how best to meet their customer's goals by identifying the repayment term that balances optimal budget flexibility with cost savings.
For more information about student loan refinancing for healthcare professionals, visit http://www.elfi.com.
ELFI is a student loan refinance program, offered by SouthEast Bank, designed to assist borrowers by consolidating private and federal student loans into one simple, low-cost loan.