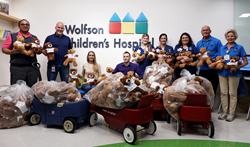 Jacksonville, Fla. (PRWEB) December 15, 2016
Employees at Jacksonville-based Crowley Maritime Corp. recently brightened the day for children at Wolfson Children's Hospital by assembling and delivering 400 teddy bears to hospital staff to give to patients. Each bear was dressed in a T-shirt that included hand-drawn messages of hope and encouragement from Crowley employees, who participated as part of the Crowley Cares program, which seeks to make charitable impacts in communities where the company operates.
Crowley employees created the bears through the "Assembly Build-a-Bear" program in partnership with Impact 4 Good, a company that helps plan and facilitate team-building activities that positively impact the community. Wolfson Children's Hospital, a part of Baptist Health, is the only full-service tertiary hospital for children, serving North Florida, South Georgia and beyond.
The Crowley Cares Program focuses and aligns employee and corporate charitable outreach, including donations of time, talent and money. The program includes the Crowley Cares Foundation, a non-profit organization that matches and grows employee charitable contributions, the Thomas B. Crowley Sr. Memorial Scholarship program, and an internal employee committee that helps building engagement around the program and support volunteer initiatives.
To learn more about Jacksonville-based Crowley Maritime Corp., a 124-year-old privately held company that provides marine solutions, energy and logistics services around the world, visit http://www.crowley.com.