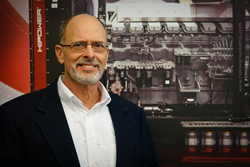 "Mike's experience perfectly fit our requirements for this new division, and his professional ethic and dedication to quality mirror our own," said HIPOWER SYSTEMS President Rafael Acosta.
(PRWEB) December 14, 2016
HIPOWER SYSTEMS, a manufacturer of power-generation and power distribution equipment in the U.S. and Canada, today announced it has chosen Lead Sales Engineer Mike Massolini to direct the sales and marketing effort for its new Distributed Power Systems division. In that role, Massolini will be a key player helping HIPOWER SYSTEMS introduce distributed power solutions to its customers while developing the new line's potential.
Prior to joining HIPOWER SYSTEMS in early 2016, Massolini worked as the Combined Heat and Power (CHP) Manager for Quasar Energy Group, a full-service waste-to-energy company based in Cleveland, Ohio. In that capacity, he helped organizations use CHP systems to turn waste products, such as sewer treatment effluent, into renewable energy. Before that, Massolini worked as a Sales Engineer for Woburn, Mass.-based Kraft Power Corporation, helping to promote its Waukesha Electrical Power Distribution product line.
"Mike's experience perfectly fit our requirements for this new division, and his professional ethic and dedication to quality mirror our own," said HIPOWER SYSTEMS President Rafael Acosta. "Distributed power solutions—and especially CHP systems—are predicted to play a major role in meeting the world's power needs. We are very pleased to have Mike on board as we move into an exciting future."
The Distributed Power Systems line, which will feature energy-efficient GE/Waukesha natural gas engines, is the newest addition to HIPOWER SYSTEMS' diverse array of generator-driven power solutions. The GE/Waukesha gas engines that HIPOWER SYSTEMS has selected for these generators are designed to perform reliably in isolated, mission-critical and demanding applications. Featuring durable design and unsurpassed flexibility, with both rich-burn and lean–burn alternatives, the engines cover a wide variety of applications and varying emissions compliance levels.
Distributed power systems are used in applications ranging from data centers and micro-grids to waste recapture. These systems are engineered and configured to collect energy from multiple sources close to the point of power usage, thereby enabling more efficient power management and saving electricity normally lost in transmission. When these systems are configured for CHP, they can provide both electricity and thermal energy for a given power application, potentially achieving efficiency of up to 90%, and providing energy savings of up to 40% when compared with the separate production of electricity and heat.
"It's very rewarding for me to work with a company that understands the urgency for creating more energy-efficient power solutions," said Massolini. "From CHP systems to waste recapture, distributed power systems are at the forefront of hyper-efficient energy production. I look forward to helping our customers achieve the tremendous benefit these systems offer."
About HIPOWER SYSTEMS HIPOWER SYSTEMS (a division of Himoinsa, S.L.; a member of the YANMAR Co. Ltd group of companies) is the principal supplier of power distribution and prime, standalone power-generation equipment and packages to the U.S. and Canadian markets, serving the Residential, Commercial and Industrial sectors including the Agriculture, Telecommunications, Health Care and Oil & Gas Industries. The company builds and customizes backup generators, diesel generators, natural gas generators and alternative bi-fuel generator sets from 8kW to 3MW with a complete range of accessories, including automatic transfer switches, paralleling switchgear, UL tanks, enclosures and power distribution equipment.
In North America and throughout the globe, our rental packages and power distribution equipment are recognized as the best power solution source for emergency and disaster relief. For more information, visit http://www.hipowersystems.com.