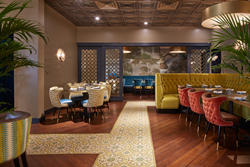 ...the hospitality and retail sectors have a real need for not only high-caliber design but also the true owner affinity Dyer Brown brings to this work...
BOSTON (PRWEB) December 13, 2016
Reflecting its longstanding commitment to innovative design solutions and a growing reputation for hospitality industry insight, the acclaimed architecture and interiors firm Dyer Brown has announced new restaurant design honors and several project wins. With a popular citywide design win from Eater Awards 2016 for the firm's latest restaurant -- Tapestry -- these developments build on the firm's national presence and a growing portfolio of hospitality work. They also recognize Dyer Brown's contributions to a fast-moving and competitive sector where design leadership — and building close relationships — are vital assets.
Among the new hospitality sector developments for Dyer Brown are several new project completions, including a renovation of Boston Harbor Hotel and an East Coast restaurant debut scheduled for next year. Others underway include a new foodservice concept for the city's Fort Point neighborhood, according to Brent D. Zeigler, AIA, IIDA, president and director of design for the firm, who says his firm is "committed to this sector" and planning for growth.
"We believe that the hospitality and retail sectors have a real need for not only high-caliber design but also the integrated services and true owner affinity we bring to this work," says Zeigler. "We can advocate for our hospitality clients, develop their brand into vibrant spaces and places, and even create lifelike visualizations of their concepts. These vertical services help ensure their true vision, design aspirations and operational needs are all fully met."
Led by veteran design experts including Zeigler and interior designer Katie Bean, Dyer Brown's hospitality project wins and firmwide growth indicate an assertive expansion into more restaurants and hotel facilities.
Boston's "Restaurant Design of the Year"
The Eater Award 2016 last month, honoring Tapestry (tapestry.restaurant) as "Restaurant Design of the Year, Readers' Choice Winner," immediately vaulted Dyer Brown into the upper echelons of New England's premier hospitality architects and designers.
According to the Eater Boston article, "Readers were wowed by the dual concepts of Tapestry," which Dyer Brown designed in collaboration with the restaurant's three owners. Eater added that "the space was transformed into the Havana-inspired Club Room and the bright, casual Expo Kitchen." Reimagining the spaces as two distinctly designed venues in one restaurant location, the Dyer Brown team brings a fresh new perspective and a magnetic offering to Boston's famed Fenway-Kenmore Square area.
"With cushy chairs, tropical murals, and an elegant fireplace, the Club Room is a far cry from its previous life," wrote Eater, and "Expo Kitchen feels like a beach resort with light blues, bright yellows, and light fixtures that look like sea urchins. It's the perfect spot for a Neapolitan-style pizza and some oysters."
Other recent projects by Dyer Brown include a range of hospitality and retail locations, workplaces and office properties, as well as academic facilities and interiors. The firm's unique offerings for long-term corporate and building owner engagements -- as well as specialized competencies in branding, 3-D visualization, and property analysis -- set Dyer Brown apart from other U.S. high-caliber design firms.
###
For images and interviews, contact Kelly Conover at Dyer Brown, (617) 457-2154.
About Dyer Brown
Recognized nationally for its award-winning portfolio of architecture and interior design projects, Dyer Brown Architects offers a fully integrated suite of professional services including high-level building owner and corporate advisory as well as 3D concept visualization. The firm's clients range from property owner/developers and end-users to global corporations and leading regional brands in such market sectors as workplace, retail, hospitality and higher education. Known for its unwavering commitment to both design excellence and client service, Dyer Brown's 45-plus professionals forge long-lasting relationships with business leaders, building owners and brokers, and institutional leaders. Dyer Brown believes that buildings and spaces -- the backdrop to our daily, shared experience -- should always be inspiring, useful and enjoyable. See the firm's recent work and a detailed overview at dyerbrown.com.