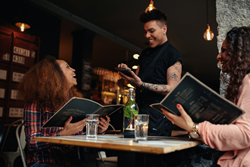 Hell's Kitchen is just steps away from our hotel, and travelers will love the neighborhood's melting pot of cuisines
New York, New York (PRWEB) December 13, 2016
The Washington Jefferson Hotel offers visitors dinner at the best restaurants in Hell's Kitchen.
With their "Taste of Hell's Kitchen" package, The Washington Jefferson gives visitors a $30 dining credit to any of six different participating Hell's Kitchen restaurants. After dining at a partner restaurant, present your restaurant receipt to the front desk to have your stay credited $30.
The six partner restaurants all offer additional discounts on top of the hotel's $30 credit. Guests of the WJ Hotel get 10% off when they present their room key at Brickyard Gastropub, a sports and craft beer pub; Maria Pia, a classic Italian restaurant; Tout Va Bien, a French bistro; and Cantina Rooftop, a modern Mexican restaurant. At BASERA, an Indian Bistro, you will get 20% off. At Rico South American Steakhouse, you can get a complimentary signature drink, the Picso Sour.
"Hell's Kitchen is just steps away from our hotel, and travelers will love the neighborhood's melting pot of cuisines," said Debbie Silverstein, General Manager. "We're proud to partner with unique restaurants like Rico South American Steakhouse and BASERA to show visitors the exceptional international cooking that makes New York a culinary destination and makes our Hell's Kitchen neighborhood one of the most diverse, exciting places to be in the city."
The Taste of Hell's Kitchen package is only for registered guests of The Washington Jefferson Hotel. The meal must be consumed during your stay to earn the credit. The restaurant's receipt must be presented to the Front Desk on the day of the meal. This offer cannot be combined with any other specials or promotions, and a 2-night minimum stay is required.
Learn more about the Taste of Hell's Kitchen package here. Interested travelers can learn more about The Washington Jefferson Hotel, special offers, and New York City's seasonal activities online.
About The Washington Jefferson Hotel Located in Midtown Manhattan near the Theater District and Times Square, the Washington Jefferson Hotel is home to 135 rooms and suites equipped with complimentary wireless Internet access, Frette linens and towels, iPod docking stations, a daily copy of The New York Times, luxury bathroom amenities and flat-screen HDTVs. Onsite features of the Manhattan boutique hotel include a state-of-the-art fitness center, concierge and business services, as well as associations with nearby theaters and restaurants that give visitors discounts and packages.