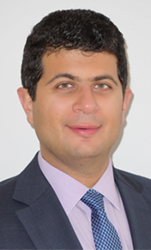 Santa Rosa, CA (PRWEB) December 14, 2016
Dr. Neema Pourtaheri joins SRO's team of board-certified and fellowship trained subspecialists who together combine extensive knowledge and experience with state-of-the-art surgical techniques. The expanded team of SRO professionals includes; medical assistants, physical and occupational therapists and staff who all work together to ensure that each patient benefits from an extraordinary continuum of care that only SRO can provide.
About Dr. Pourtaheri
Dr. Pourtaheri completed his undergraduate degree in Biomedical Engineering from the University of California, Berkeley before earning a Medical Doctorate in New Orleans, Louisiana, at Tulane University School of Medicine. Dr. Pourtaheri was appointed Chief Resident in his final year as Orthopaedic Surgery Residency at St. Joseph Regional Medical Center. He then went on to advance his orthopaedic expertise with a shoulder and elbow Fellowship at Beth Israel Medical Center in New York. While pursuing undergraduate studies, residency and fellowship, Dr. Pourtaheri published several lauded works on orthopaedic conditions and treatments.
Dr. Pourtaheri is also Board Certified by the American Board of Orthopaedic Surgery and a member of the Arthroscopic Association of North America (AANA) and the American Academy of Orthopaedic Surgeons (AAOS). He has trained alongside some of the world's finest orthopaedic surgeons and brings invaluable medical expertise pertaining to the latest advancements in shoulder and elbow care. The overall scope of Dr. Pourtaheri's practice includes;

arthroscopy (minimally invasive) surgery
fracture care
tennis elbow
joint replacement
elbow ligament reconstruction
minimally invasive procedures
rotator cuff disease
total shoulder & elbow replacement
general orthopaedic surgery
sports medicine
In any orthopedic situation, the goal of the SRO Team is to enhance mobility, diminish pain, increase function, achieve independence and improve quality of life for patients. Along with Dr. Pourtaheri the SRO team continues to implement the latest advances with increased expertise in shoulder and elbow diagnosis, treatment, and rehabilitation.
Shoulder and Elbow Care
An important part of maintaining an active, healthy lifestyle is having flexibility and mobility in the shoulder and elbow joints. Nagging symptoms such as chronic pain and arthritis that limit mobility can cause a person to refrain from fully participating in life's simple pleasures. This can also lead to depression and a whole host of health issues that follow. Dr. Pourtaheri offers a variety of non-surgical and surgical treatment options aimed at helping patients resume the activities that make life meaningful.
The cause of painful shoulder and elbow complaints can be quite varied and include; osteoarthritis, rheumatoid arthritis, post-traumatic injury stemming from an accident or fall, and more. While pain sometimes can be treated at home with rest, ice and over-the-counter medication, more severe shoulder injuries and conditions require an orthopedist for diagnosis and treatment. Common conditions can include; arthritis, shoulder bone spurs, torn rotator cuffs, fractures, dislocation, damaged cartilage, throwing injuries, and more.
About SRO
SRO offers patients in-house diagnostic imaging, rehabilitation, sports injury prevention, as well as advanced surgical treatments in joint replacement, sports medicine, trauma care, hand, foot and ankle, shoulder and elbow and general orthopedic surgery. To learn more visit the SRO website and to make an appointment with Dr. Pourtaheri call 707-546-1922.