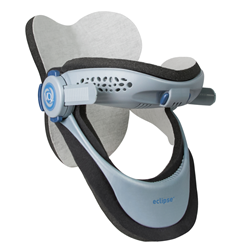 "The ability of the patient to easily replicate the fitting from the doctor's office reduces the application errors that make other collars less effective at home, where they need it," said Jim Knape, President and CEO of VQ OrthoCare
Irvine, CA (PRWEB) January 09, 2017
VQ OrthoCare®, a leading provider of non-invasive, non-drug medical solutions focused on bone, joint and soft-tissue conditions, introduced its flagship, off-the-shelf cervical collar, the Eclipse™ is used for mild to severe injuries to the neck and for post-surgical stabilization.
The Eclipse Cervical Collar's differentiating feature is its patent pending fitting disks that make initial fitting simple and reproduce the clinical fit for future re-applications, increasing patient reliability and compliance without the use of hook and loop straps. Once adjusted, the patient simply snaps the sizing disks in place. There is no need to adjust the brace each time it is applied. In addition, the Eclipse Cervical Collar offers infinite height adjustments to provide patients with a precise fit that doesn't limit them to preset height settings. Height is adjusted with a simple pinch at the chin, making it easy for patients to adjust for meals or when lying down. Keeping comfort and aesthetics in mind, the cervical collar's interior is made with a wicking, cloth-lined foam that minimizes pressure points and a large tracheal opening for procedural airway access. The Eclipse is a universally sized collar, reducing inventory needs and overall costs.
The Eclipse Cervical Collar is available through physicians or by calling VQ OrthoCare at 1-800-266-6969. For more information, please visit http://www.vqorthocare.com.