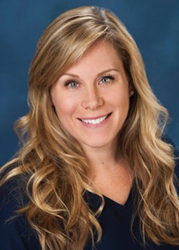 "Trusight stands out as a technology provider who can truly improve consumers' experiences today."
San Jose, CA (PRWEB) December 13, 2016
Trusight, Inc. announces the appointment of Mary Anderson to the company's Advisory Board.
"Mary Anderson's comprehensive experience in over the top content delivery brings technical and market depth to reaching key partners for product solution integration and reach into a global marketplace," said Scott Slater, Trusight's Founder and CEO. "Mary's insight into the integration of Trusight's software solution complements our unique ability to deliver the promise of higher dynamic range video experience for content distributors to the existing 8 billion connected devices in the world."
"With the advent of live streaming for both professionally produced events such as the 2016 Olympics but also as the primary communication vehicle for social media, Trusight stands out as a technology provider who can truly improve consumers' experiences today." Mary Anderson joins Trusight while continuing to serve on The Advisory Boards of Ceek, EveryMundo, and So Choix.
Connected devices have become the primary means for capturing and viewing video. Varying lighting conditions, limited bandwidth and power, varying display technologies and backlight settings minimize the video experience. Trusight is the only solution that seamlessly addresses these challenges by restoring the intelligibility of any video. Trusight's scientists discovered how the eye actually arranges luminance so that it can travel through the bandwidth limited optic nerve. By applying this same natural algorithm, content matches how the eye naturally perceives light using less resources. Trusight's solution can be invaluable for improving the capture and viewing of content on connected devices delivering "a better video experience for the lowest possible cost."
"Trusight's DLM platform is the most lightweight perception optimizing solution available today. Trusight can automatically restore a "3 bit advantage" using fewer bits, greater clarity and intelligibility improving the delivery of next-generation larger, immersive and higher dynamic range content," said Scott Slater. "Most importantly, it is deployable across existing connected devices and/or network distribution channels.." said Slater.
Mary Anderson joins a dynamic team of industry icons on Trusight's advisory board which include: Vincent Laforet - Pulitzer Prize winning photographer and cinematographers; Jon Peddie – President and Founder of JPR; Camillio Martino – Former CEO Silicon Image and Executive Advisor; Brad Buss – Chief Financial Officer of SolarCity; Tom Kosnik - Professor of Entrepreneurial Studies at Stanford's Technology Venture Program; John Medica, former Vice Chairman and Corporate Advisor of Compal Group; and Ted Vucurevich, former Chief Technology Officer of Cadence and founder of Enconcert.
For a side-by-side video demonstration of Trusight's technology, or more information, see http://www.trusight.com. Follow Trusight on Twitter @TrusightVision and on Facebook at TrusightDLM.
About Trusight, Inc.
Trusight is the innovator provider of visual perception solutions which seamlessly improve the viewer experience while reducing the costs associated with distribution and disparate hardware. Trusight's patented solution improve the perception of luminance information in video capture which was minimized in either live capture, formatting and distribution and adapts content to the ambient viewing conditions on any connected device. Digital Luminance Management™ (DLM) can be deployed in the cloud or in or on connected devices. Trusight's perceptual innovation solves the variable light exposure problem of live streaming capture and viewing on connected. Based in Silicon Valley, Trusight software normalizes the luminance information in content and adapts to ambient light conditions, power available, type of display, delivery bandwidth. (i.e. HDR, SDR, AR, VR HDR…) to deliver a better video experience anytime, anywhere. For more information, visit http://www.trusight.com.