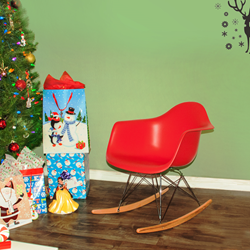 Our customers have spoken, so all mid century items are taking over this holiday season.
Baldwin Park, CA (PRWEB) December 13, 2016
There are two things the e-commerce furniture store EZmod Furniture is known for-low prices and being ahead of the style game. This is why EZmod Furniture has launched three new items this week that are out of this world-The Skylark Bar Stool, the Skylark Pub Table and the All Purpose Wall Coat Rack. Also, it is that time of year again. The Christmas and New Year's Sale is in full swing and customers will enjoy 10% off all mid century modern items.
The futuristic shape of Skylark pub table will add a contemporary feel to any living space or office. The thick, high shine chrome ring doubles as a foot rest and guarantees sturdiness. With a medium brown wood finish, the bar table is a lovely addition to almost any interior. Its unique, rectangular legs are reminiscent of a rocket ship, with a very thick wooden table top that will last for years to come. It is out of this world.
With its four solid wood legs connecting to a high shine chrome foot rest, the Skylark bar stool is made to last for years to come. The high shine chrome ring doubles as a footrest and offers maximum foot comfort. Skylark bar stool possesses a wide, backless seat atop its sturdy frame. And the stylish seat even has a decorative circle carved in the middle of it.
The All-Purpose Coat Rack brings back nostalgia. Includes 9 spokes that are hand painted red, allow plentiful space for coats, hats, belts or purses. It will help to keep things organized and off the floor. What makes this coat rack unique from the rest is its solid wood spokes angled upward, to guarantee nothing slips off again. Whether placed in your home or office, the sturdy, rectangular block can be placed just about anywhere.
EZmod has also launched the annual Christmas and New Year's Sale. Customers will enjoy 10% off mid century modern items site wide. "Our customers have spoken, so all mid century items are taking over this holiday season," explained Gloria Ortega, Operations Manager. All customers need to do is enter online promotional code EZDEC16 at checkout. The sale will run from December 1st 2016 through January 4th 2017.
From modern designs to mid-century to contemporary, EZmod Furniture has what you are looking for. EZmod Furniture is an online modern furniture company specializing in beautiful, premium furniture and interior décor. EZmod Marketing Specialist Angelique Valdez is happy to answer any questions you may have about the Skylark items or any other items. Please call 866-630-6161 extension 113 for more information.