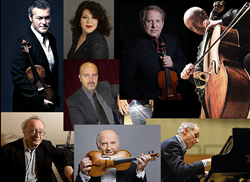 New York, New York (PRWEB) December 13, 2016
InterHarmony® International Music Festival announces its 2017 Outstanding Guest Artists, featuring Vadim Repin, Alfred Brendel, Shlomo Mintz, Bruno Canino, Christa Mayer, Boris Kuschnir, and Antonio Di Christofano. The program offers participants of the festival the chance to interact with living legends of the classical music scene on a variety of levels, from exclusive concerts and performance opportunities, to master classes and lectures. More details about InterHarmony's exciting new location and the application process can be found at http://www.interharmony.com.
InterHarmony International Music Festival's 2017 summer season is starting soon, and that can mean only one thing: the return of IIMF's successful Outstanding Guest Artist series. The series takes off on July 6th, 2017 in IIMF's new location, Acqui Terme, Italy, where celebrated Italian pianist Bruno Canino will join Music Director Misha Quint for a grand opening concert. Quint and Canino will perform a selection of the greatest works for cello and piano: Beethoven's foundational Cello Sonata No. 3, Schubert's heart-breaking Arpeggione, Stravinsky's neo-classical masterpiece, the Suite Italienne, and Tchaikovsky's final work for cello: the Pezzo capriccioso.
IIMF's Outstanding Guest Artist Series is proud to announce the participation of Israeli virtuoso Shlomo Mintz in 2017's first session in Acqui Terme, Italy. On July 9th, 2017, Mintz will join Guest Artist Bruno Canino (piano) and festival founder Misha Quint (cello) for concert of chamber music. The program includes Rachmaninoff's heart-breaking Trio élégiaque, Kodály's epic Duo for Violin and Cello, and Tchaikovsky's tragic Piano Trio. A student of Ilona Feher, he made his orchestral debut in Israel at the age of 11 and, under the patronage of his mentor, Isaac Stern, had his debut in Carnegie Hall five years later. Since then he has become an internationally sought after performer, collaborating with such giants as Pablo Casals, Eugene Ormandy, Claudio Abbado, Lorin Maazel and Mistislav Rostropovich More info can be found here.
It is with great pleasure that InterHarmony International Music Festival announces its ongoing collaboration with one of the greatest violinists of our time, Vadim Repin. As a part of its Outstanding Guest Artist Series, IIMF is offering students the chance to play with this legendary artist at the final concert of Session 2, on July 29th, 2017. Repin will take the stage with festival founder Misha Quint and the InterHarmony Festival Orchestra to perform Brahm's transcendent Double Concerto in a minor. Students will experience firsthand how the man Yehudi Menuhin once called the "most perfect violinist that I have ever had the chance to hear" rehearses, prepares and performs. More details are on the InterHarmony website.
Alfred Brendel will join the InterHarmony International Music Festival in Acqui Terme, Italy, on July 21, 2017, to deliver a lecture on performing Mozart, a composer whose "mastery and power of expression […] seem virtually unlimited". Brendel's talks have been roundly praised due to his uncanny ability to translate his informed and astute interpretations of the classical tradition from musical expression to verbal description. This lecture is not only chance for students to benefit from his observations and insights into problems of performance – it is a way to hear the master demonstrate musical examples.
InterHarmony International Music Festival welcomes pianist Antonio di Cristofano to its 2017 Outstanding Guest Artist Series. Di Cristofano will join founder Misha Quint on July 19 for the opening concert of Session 2 in Acqui Terme, Italy. Program highlights include Shostakovich's searing D minor Sonata for Cello and Piano and solo piano works by Scriabin. In 2006 and 2007 Di Cristofano mades the debut in Carnegie Hall – New York and in Konzerthaus and Golden Hall MusikVerein in Wien. He has recently been appointed Guest Professor at the Xiamen Conservatory in China.  
This year in Sulzbach-Rosenberg, InterHarmony International Music Festival announces its first Outstanding Guest Vocalist, world-class mezzo soprano Christa Mayer. A native of Sulzbach-Rosenberg, Mayer has been an ensemble member of the Saxon State Opera in Dresden since 2001, where her interpretation of Erda in Das Rheingold and Siegfried brought her international recognition. Guest performances in recent years have brought her to opera houses in Berlin, Munich, Venice, Florence, Bilbao, Barcelona, Sevilla und Tokyo. In 2007, Mayer took part in the Ring Cycles of Valencia and Florence, and, in 2008, she made her debut at the Bayreuth Festival as Erda and Waltraute, where she has returned yearly since. Her recordings include a collection of songs by Hermann Zilcher and a number of albums of Strauss with Karl Anton Riekenbacher. She has performed at the Schubertiade Schwarzenberg, the Bad Kissingen Summer Festival and the Schleswig-Holstein Music Festival. Upcoming engagements include Brangäne in Tristan und Isolde, Mary in The Flying Dutchmen at the Bayreuth Festival. On August 4, 2017, in Sulzbach-Rosenberg, she will give an open master class, at which students in the Vocal program will then be invited to perform. This rare opportunity to work personally with one of opera's most acclaimed mezzos should not be missed, and more info is on this link.
Join InterHarmony International Music Festival this summer in Sulzbach-Rosenberg for a masterclass with Boris Kushnir, one of the world's foremost violin pedagogues. A student of David Oistrakh's at the Moscow Conservatory, Kushnir has been described as a modern-day Leopold Auer. His students include Julian Rachlin, Nikolai Znaider and Lidia Baich, along with more than 40 other laureates of national and international competitions. Kushnir has given master classes and served as a jury member at competitions across the globe, including the Tchaikovsky in Moscow, the Queen Elisabeth in Brussels, the Nicolò Paganini in Genoa, the Jacques Thibaud in Paris, the International Violin Competition of Indianapolis, the Seoul International Music Competition and Eurovision. His own career as a soloist and chamber musician (as co-founder of the Moscow and now the Kopelman Quartet) has been equally illustrious. He performs on the "La Rouse-Boughton" Stradivarius (1703). His masterclass will take place on August 7th, 2017.