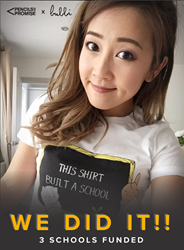 New York, NY (PRWEB) December 14, 2016
YouTube creator Lindy Tsang, better known as BubzBeauty to her six million followers, announced today that she exceeded her goal of raising $105,000 through her holiday campaign to benefit Pencils of Promise (PoP). The popular YouTube star launched her initiative on November 2nd and she has now reached 110% of her fundraising goal to build three schools in rural Ghana with the non-profit education organization.
Through the month of November, Tsang sold a 'This shirt built a school' t-shirt, as well as an eyeshadow palette that she created alongside BH Cosmetics. 100% of t-shirt proceeds and $2 from the sale of every palette went to Pencils Of Promise. The donations will provide hundreds of children in Ghana with a quality education and structurally sound learning environment.
Tsang's first collaboration with Pencils Of Promise launched in August 2015, and in January 2016 she traveled to Laos to see her impact firsthand. She visited several PoP communities during the trip, among them was Saen Oudom Primary School one of the two schools she helped build in the country.
"Being able to use my platform to positively impact the lives of kids and communities around the world has meant so much to me. Together, the BubzBeauty community has built five schools in two years — I'm in absolute awe," says Tsang.
Next year, Lindy will be taking a trip to Ghana to experience her impact and share the journey with her online community who helped make these schools possible.
"Lindy has been an incredible part of our PoP family," says PoP Head of Brand Innovation & Talent Relations, Carlo Dumandan. "Millions of children across the globe don't have access to a quality education and Lindy is helping us change that."
PoP was founded in 2008 with the goal of increasing quality education for children in the developing world. Since inception, the organization has built over 380 schools and educated more than 35,000 students.
About BH Cosmetics
BH Cosmetics creates high-quality, affordable cosmetics, makeup brushes and accessories. Known for delivering high-quality cosmetics at affordable price points, the company's product line has garnered extensive praise on YouTube and other social media networks. BH Cosmetics was previously recognized on Inc. Magazine's Inc. 500 list as one of the country's fastest-growing private companies. For more information, visit http://bit.ly/BUBZpalette.
About Lindy Tsang
Widely considered to be one of the most influential social media icons in the beauty industry, Lindy Tsang is less than five feet tall—but her global influence is giant. As the star of YouTube channels Bubzbeauty and Bubzvlogz, Lindy has over six million followers worldwide. Her high profile and popularity also enabled her to launch a project with Pencils of Promise to help build schools for underprivileged children across the world.
About Pencils of Promise:
Pencils of Promise ("PoP") is a for-purpose organization founded in 2008 with the goal of increasing access to quality education for children in developing countries. PoP works with communities across the globe to build schools and create programs that provide educational opportunities for children, no matter where they are born or what resources they have. To date, PoP has built over 380 schools and provided access to education to more than 35,000 students throughout Laos, Nicaragua, Guatemala and Ghana, establishing itself as a leader amongst the innovative global nonprofits working toward sustainable social change.