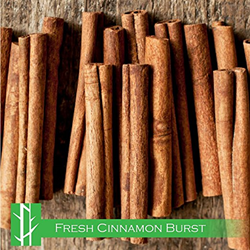 100% ORGANIC! As opposed to the whitening ingredients used in other teeth whiteners, the Natural Activated Charcoal Teeth Whitening Powder with Organic Cinnamon double doses and has lasting effects.
Minneapolis, MN (PRWEB) December 20, 2016
Users of Sagano Natural Activated Charcoal Teeth Whitening Powder are in for a delicious treat because the product's manufacturer has decided to add the refreshing flavor of cinnamon to their mouth-cleansing experience. While the burst of spicy-sweet flavor is a welcome addition, Sagano maintains that their teeth whitening product remains all-natural since they are using organic cinnamon.
"We have listened to the requests of many of our customers for something to spice up the taste of our activated charcoal powder. We take pride in reassuring our customers that our products remain chemical-free. The addition of organic cinnamon to our natural activated charcoal teeth whitening powder aims to bring a more pleasurable and fresh-tasting indulgence to our their tooth-whitening routine while at the same time giving them the tremendous benefits of natural activated charcoal with no artificial flavor," shared Nate Ginsburg, Sagano Chief Executive Officer.
Sagano's teeth whitening powder is made of activated charcoal from 100% premium coconut. It is used to minimize and eliminate teeth discoloration from coffee, tea, red wine, and other tooth-staining beverages.
"Our newly-improved activated charcoal teeth whitening powder with cinnamon is highly recommended for people with sensitive teeth because our product comes in a very fine and soft texture which will not irritate their teeth and gums," Ginsburg added.
Sagano's natural activated charcoal teeth whitening powder with organic cinnamon is now offered with a money back guarantee. Sagano invites customers to try this toothpaste alternative and enjoy the benefits of an all-natural mouth-cleansing and tooth-whitening option that now comes with a refreshing burst of natural cinnamon flavor.
--
About Sagano:
Sagano is a brand that specializes in health and wellness products that are exclusively manufactured using premium quality organic materials that have been designed and tested to meet consumers' evolving needs. Visit their product in Amazon to know more.