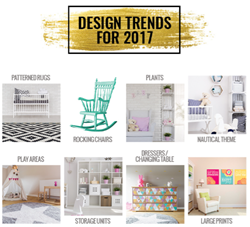 2017 will bring a host of style changes that can transform any nursery from a utilitarian kid's room to one that is bursting with creativity and fun
Trumbull, Connecticut (PRWEB) December 29, 2016
Designers and fashionistas often focus a lot of time and effort on the trends and style preferences most often displayed in living rooms, bedrooms, and kitchens around the world, but the latest in nursery design trends are important to consider, as well. Style mavens 76th & Newbury have created an infographic that outlines several nursery-focused style evolutions that designers have predicted will become more prevalent in 2017.
Click 2017 Nursery Design Trends to view the infographic.
Nurseries offer parents an opportunity to explore design themes and style elements that aren't necessarily appropriate in the rest of the home, but a child's room is the perfect place for geometric patterns or jungle prints, eclectic color combinations, repurposing of old furniture to create dual-use pieces, and more. According to the infographic, which was created using the input of renowned designers in the US, 2017 will bring a host of style changes that can transform any nursery from a utilitarian kid's room to one that is bursting with creativity and fun.
From a preference for gender neutral colors to incorporating lighter woods or whitewashed finishes, nurseries styles will shift this coming year. Take a look at the infographic to see firsthand just how much is shifting in 2017. One of the biggest changes you'll notice is a drive toward darker colors in nurseries - with one big advantage being that the moodier hues help furniture colors to pop more easily. Rustic wallpapers are also forecast to be huge, as are geometric shapes on the walls.
About 76th & Newbury
More than just a place to order custom home décor items, 76th & Newbury falls under parent company Newbury Rain and is committed to working with clients to create custom artwork for their homes, weddings, nurseries, and the every-day. The driving factor is simple - to help customers celebrate and commemorate life's most precious moments, while taking personalization to the next level. Each order is unique and has a personality of its own. 76th & Newbury is headquartered in Trumbull, Connecticut, and serves a global market.