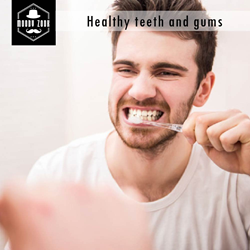 WHITER & HEALTHIER. Raw Activated Carbon with Sage whitens teeth and promotes healthier gums and a fresh-smelling mouth with every brush!
Minneapolis, MN (PRWEB) December 20, 2016
Organic sage took center stage in a recent announcement by healthy living brand Moody Zook that the woody herb has been added to their activated charcoal teeth whitening powder to boost the product's antibacterial benefits.
"We now have a very powerful activated charcoal and organic sage combo in our teeth whitening powder. With the impressive anti-inflammatory and immune system-boosting properties of organic sage, it is the perfect mix to the already potent mouth-cleansing benefits of our activated charcoal powder," said Nate Ginsburg, Moody Zook Chief Executive Officer.
According to Ginsburg, their company chose to add organic sage to their activated charcoal teeth whitening powder because they wanted to give their customers the best oral health care possible. "We want our customers to not just have whiter teeth when they use our product. We also want them to really enjoy that fresh feeling of a totally clean mouth, and that can only be achieved if we help them fight tooth decay and gum disease. That's where organic sage packs that powerful punch of helping prevent mouth sores, gum infections, and toothaches," Ginsburg added.
Moody Zook's activated charcoal teeth whitening powder, which now comes with organic sage, is an all-natural alternative to regular toothpaste. It is made from 100% premium coconut activated charcoal that makes it twice more absorbent than hardwood-based carbon. It has no artificial flavor and leaves no bitter aftertaste while it effectively whitens teeth, removes unsightly tooth stains, and leaves mouth fresher and healthier when used in brushing teeth regularly.
--
About Moody Zook:
Moody Zook is a brand that produces top-grade products using premium activated charcoal. All of the company's products are manufactured using quality materials that have been designed and tested to meet consumer needs while adding to the company's winning formula. Visit their product in Amazon to know more.