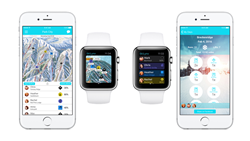 "SkiLynx uses innovative technology to create a simple, elegant solution that lets skiers and snowboarders enjoy the best experience on the snow."
San Francisco, Calif. (PRWEB) December 13, 2016
Perfectly timed for the Christmas holiday season, SkiLynx today unveiled an upgraded version of its popular ski and snowboard app that enables friends and family to easily stay connected on the slopes thanks to real-time location sharing and one-tap chat. Named "Best New Ski App" last winter, the new SkiLynx 3.0 version has been expanded to connect both iOS and Android users at the top-rated U.S. and Canadian resorts from coast to coast.
"SkiLynx makes it easy for you to stay connected with your friends while each of you enjoy your own style of day on the snow," said Sarah W. Stocker, Co-Founder of SkiLynx. "With SkiLynx, you can see exactly where everyone in your group is on the mountain and chat with a simple tap. Whether you are a hard core, double-black diamond snowboarder or a chill skier taking your time on the trails, SkiLynx lets you focus on having fun on the slopes."
SkiLynx enables friends and families to stay connected on the mountain by allowing users to see at a glance exactly which chairlift or run each other is on, and send group messages with a single touch of their mobile or wearable device. No need to worry about dropped calls or hassling with paper trail maps on the chairlift, the new SkiLynx app lets skiers and snowboarders spend more time on the slopes and less time on their phones.
The intuitive app allows users to choose their favorite ski resort from an ever-growing list of world-class resorts across North America and then create their own private ski group for the day from the existing contacts on their phone. Skiers and snowboarders can then see exactly where their friends and family are on the mountain including trail difficulty ratings and the precise percentage up or down a chairlift or run. Users can also chat with group members and use one-touch, customizable messages to streamline communications on the hill.
SkiLynx's easy-to-use features include a location-aware "Smart Message" functionality that allows skiers to share their exact location on the mountain even if they do not know the specific name of the chairlift, run or bowl. By simply typing "#here," any SkiLynx message will automatically include the user's exact location. For example, "Meet me at #here" becomes "Meet me at Northridge Express" taking the guess work out of connecting on the mountain. Perfect for season passholders, college ski clubs and families on a ski vacation, SkiLynx eliminates the hassle of setting prearranged meeting times or waiting for other members of your group.
SkiLynx is also optimized for Apple Watch, allowing smartwatch users to keep their phones safely in their pockets while seeing their group's location or chatting with a tap, right from their wrist.
SkiLynx users receive a "My Ski Day" email after each ski day, listing every run and lift they skied by name along with highlights of the group's day. Every ski day at each resort is saved in the app's "My Ski Season" section and can be easily shared on Facebook and Twitter. New for SkyLynx 3.0, users can compare their season-long profile with statistics from previous seasons.
SkiLynx's early season release covers 40 of the top-rated ski resorts across North America including Colorado, Utah, Wyoming, California, New England, the Pacific Northwest, and Canada, with additional new resorts slated to be added throughout the 2016-17 season. The app also includes real-time chairlift and trail status, snow reports and regional weather forecasts for each resort.
"SkiLynx uses innovative technology to create a simple, elegant solution that lets skiers and snowboarders enjoy the best experience on the snow," said SkiLynx Co-Founder Mark Danks. "Just as GPS has changed the way drivers get directions and real-time traffic reports, SkiLynx solves skiing's long-standing connectivity and communication challenges taking these frustrations out of your day on the slopes."
SkiLynx, hailed by Outside Magazine as "The best new ski app for keeping track of your crew on the hill," and by Men's Fitness as "one of the best health and fitness apps for Apple Watch," has also been recognized by Tom's Guide, WIRED Magazine and TechCrunch as one of the best apps for skiers. Squaw Valley | Alpine Meadows recently selected SkiLynx for their 'best of breed' skier experience technology, incorporating the SkiLynx platform as the basis for the resort's mobile guest experience for the 2016-17 ski season.
Skiers and snowboarders can download SkiLynx 3.0 for iOS and Android devices for $2.99 in the app store of their choice. Visit http://www.SkiLynx.com for further details including a full list of participating resorts.
About Wearlynx, Inc.
Wearlynx, Inc. was founded in 2014 by technology innovators Mark Danks and Sarah W. Stocker, whose backgrounds include 17 years leading development studios and creating best-selling games for brands like Sony Computer Entertainment and Electronic Arts. Danks and Stocker also co-founded Kodama Studios, whose ground-breaking creations on mobile and web include the first direct-to-consumer 3D printing platform My Robot Nation, hailed as innovation by WIRED, iO9, CNET, and The Motley Fool, as well as the Biophilia App Suite, created in collaboration with musician Björk, which was inducted as the first downloadable app in the New York MoMA's permanent collection in 2014.