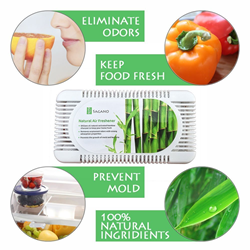 FRESHER AND CLEANER AIR. Get rid of stinky smell and breathe fresher air by using activated charcoal at home and in your work place.
Minneapolis, MN (PRWEB) January 13, 2017
Nobody wants to put up with unpleasant odors. Whether it's indoors or outdoors, stinky smells often make people gag and make their stomach retch. Most people resort to using air fresheners to mask the unwelcome odor, but doing so does not really kill the bacteria that causes the stomach-churning smell in the first place.
What about the bacteria that spreads inside the refrigerator and shortens the shelf life of food? The usual air fresheners won't do because food is a completely different territory. It is for this reason that Sagano came up with a chemical-free air purifier that keeps bacteria, mold, and foul smells away from food the natural way.
During the launch of the Sagano Activated Charcoal Odor Absorber and Air Purifier, Sagano Chief Executive Nate Ginsburg presented the benefits of using their all-natural activated charcoal product.
"We don't want to be exposing our food to harmful chemicals in exchange for fresher air inside the refrigerator. Sagano addresses this concern, and that is why we are presenting our activated charcoal odor absorber which is 100% chemical free and made purely from premium coconut shells. While we made this product for the specific purpose of absorbing bacteria that causes molds and foul smells in food, it is also an effective odor eliminator outside the refrigerator. It is actually a multi-purpose air freshener that also purifies the air by absorbing odor-causing bacteria anywhere in the home or office," Ginsburg explained.
The Sagano Activated Charcoal Odor Absorber and Air Purifier was presented as a chemical-free and food-grade refrigerator deodorizer during the product launch and was also recommended by Sagano as an alternative to chemical-based indoor and outdoor air fresheners.
--
About Sagano:
Sagano is a brand that specializes in health and wellness products that are exclusively manufactured using premium quality organic materials that have been designed and tested to meet consumers' evolving needs. Search for the brand's products on Amazon to know more.