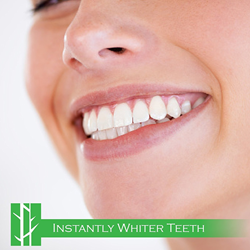 100% ORGANIC! Get special discounted two-piece or three-piece bundles at a limited time!
Minneapolis, MN (PRWEB) January 13, 2017
People who have sensitive teeth are about as common as those who do not have to endure jolts of pain whenever they brush their teeth. Sadly, most dental hygiene products in the market contain chemical ingredients that only aggravate the condition of people who have sensitive gums and teeth. For these people, continuing their daily oral care routine to keep their teeth white and healthy is a struggle with pain. They often have no choice but to use regular chemical-based toothpastes and teeth whitening products that do not address their teeth and gum sensitivity.
Nate Ginsburg, Chief Executive Officer of health and wellness brand Sagano, recently spoke about their company's efforts to respond to the growing need for oral care and teeth whitening products that are specifically intended for people with sensitive gums and teeth. Plus, announced another treat for their cult favourite product.
"We at Sagano recognize the special needs of people with sensitive teeth, especially in terms of finding the right dental hygiene products that will allow them to clean and whiten their teeth painlessly. That is why we have formulated a variant of our activated charcoal teeth whitening powder and added organic cinnamon, which gives people an all-natural mouth cleansing and teeth whitening option that spares them from harsh chemicals that cause them pain when they brush their teeth. Not just that! We also now have bundles of 2 pieces and 3 pieces that can be purchased in Amazon for those who want to hoard or give this as gift because it really works and we mostly produce in limited number! So this offer is perfect for people and even our current customers who want to buy in bulk," Ginsburg said.
Visit Sagano's website for information on how to order the company's premium all-natural activated charcoal products.
--
About Sagano:
Sagano is a brand that specializes in health and wellness products that are exclusively manufactured using premium quality organic materials that have been designed and tested to meet consumers' evolving needs. Search for the brand's products on Amazon to know more.