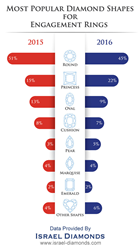 Looking at the figures, we believe this trend will continue rising through 2017, with the princess cut becoming even more popular
Ramat Gan, Israel (PRWEB) December 19, 2016
Princess cut diamonds have surged in popularity as the stone of choice for engagement rings in 2016, according to market figures from leading jewelry retailer Israel-Diamonds.com.
Israel Diamonds CEO Mr. Amir Berman said that while round diamonds continue to be the favorite shape for engagement rings, 2016 saw an increased interest in non-round diamonds, particularly the princess cut.
According to figures released by Israel Diamonds, 22% of consumers chose the princess cut in 2016, a significant increase on the 2015 figure of 15%.
Data is based on the sale of several thousands of engagement rings sold by Israel Diamonds each year.
"Looking at the figures, we believe this trend will continue rising through 2017, with the princess cut becoming even more popular," Mr Berman said. "The princess cut is striking and versatile, with a wide range of options for design."
Israel Diamonds gives customers the option of designing their own engagement ring, using stones from the Israel Diamonds collection. As a result, customers seem to be moving away from more traditional choices in order to create unique and striking designs.
While round diamonds continue to be the most popular shape for engagement rings, they dropped in popularity from 51% in 2015 to 45% this year, with other diamond shapes remaining relatively stable. Mr. Berman says the shift in trends shows that consumers tend to follow their own heart when choosing the diamond for their engagement ring.
"Customers are more aware of all the beautiful and creative options available to them, so we have increased our collection of high-end white and fancy colored diamonds in every shape in response to demand," Mr. Berman said. "Our designers are constantly creating new designs to highlight the beauty of every stone, so we can provide each individual customer with the perfect match for their taste and budget."
"It is an exciting time for the jewelry industry, as we can communicate directly with the customer to create the ring of their dreams."