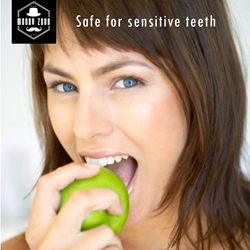 IT'S NOT MAGIC. There is a product that effectively and naturally whitens teeth, anti-inflammatory and anti-bacterial!
Minneapolis, MN (PRWEB) January 14, 2017
Healthy living brand Moody Zook recently came forward to present the distinctions among their expanding line of activated charcoal products. With more and more people opting to go organic in their lifestyle, the company emphasizes the importance of categorizing their products according to how they cater to specific needs.
Moody Zook focused particularly on their newly launched activated charcoal with organic sage powder to differentiate this so-called "all-natural power combo" from their other activated charcoal products. According to Nate Ginsburg, Moody Zook Chief Executive Officer, the decision to combine the two powerful ingredients of natural activated charcoal and organic sage was a result of thorough research and testing to come up with just the right formulation for the new product.
"Coming from a recent study, we were amazed by the antibacterial potentials of organic sage. Given the growing popularity of our raw activated charcoal powder, we knew that adding organic sage to the mix will not only improve its taste but also boost the product's oral care benefits. It is now our most recommended product for health-conscious individuals who are looking for anti-inflammatory and antibacterial benefits in their daily mouth-cleansing and teeth whitening routine," Ginsburg said.
Moody Zook's Activated Charcoal with Organic Sage Powder is an all-natural alternative to toothpaste and other chemical-based teeth whitening products. It is packed with active ingredients that help prevent mouth sores, gum infections, and toothaches when used in brushing teeth regularly. It is also used in reducing and eliminating tooth stains from coffee, tea, and other tooth staining beverages while at the same time thoroughly cleaning the mouth for a longer lasting fresh breath.
--
About Moody Zook:
Moody Zook is a brand that produces top-grade products using premium activated charcoal. All of the company's products are manufactured using quality materials that have been designed and tested to meet consumer needs while adding to the company's winning formula. Visit their product on Amazon to know more.