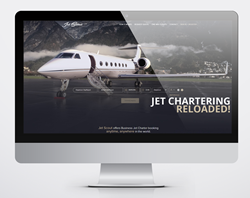 We know the expectations of the industry and how 'uberization' has revolutionized end users' bookings. We can serve all the needs of the modern private jet users
Zürich, Switzerland (PRWEB) December 14, 2016
Jet Scout is a new innovative web-booking platform that provides the business aviation community with improvements in price, timeliness, flexibility and efficiency is excited to announce its launch. From Dec 14, 2016, private flyers around the world will be able to appreciate its user-friendly interface, providing fast access even in the most complex booking scenarios.
How does it work?
Jet Scout offers a streamlined search engine running on one unique platform. Business Aviation operators will enjoy features such as ad hoc calculated route distances, custom operational costs, and rule-based fees (among many other benefits). The jet charter provider will have the opportunity to use their own integrated sales platform and direct access to new clients, saving them time and extending their reach through Jet Scout's proprietary software that efficiently handles quotations, booking and invoicing. Dedicated 24/7 support and video tutorials are available at every step.
Jet Scout also simplifies jet chartering with a fast and easy booking process. This public platform (free of charge for end-users), will be opened to any private jet flyer (or its assistant) on Dec 14, 2016. From a charter customer's perspective, Jet Scout is designed to make it easy to source a charter trip by simply asking for a quote. The user just specifies the departure point and destination, the times and dates and any pertinent information such as the number of passengers (and accompanying pets, if applicable) and other needs. With Jet Scout, HNWI will have the ability to securely and efficiently request, quote, book, pay and fly anytime, anywhere.
"We received very positive signals from the industry. First, in Orlando last month" at NBAA-BACE (Business Aviation Convention & Exhibition) the sixth largest trade show in the United States, comments Costi co-founder and experienced private pilot. "The business aviation community confirmed last week in Dubai Central its strong interest during Middle East Business Aviation Association Conference. It is the final step of two and a half years of hard work," adds Stefano Costi, a computer science graduate and Jet Scout's Managing Director. "Many more additional features, currently being beta-tested with our fellow clients, will come later this year to continually improve Jet Scout. We know the expectations of the industry and how 'uberization' has revolutionized end users' bookings. We can serve all the needs of the modern private jet users" Costi concludes.
At Jet Scout origins:
Stefano Costi is the co-founder of Aeronautica SA Consulting & Software Development. Based in Switzerland, the company provides other solutions to business aviation operators such as Aviator One (a highly diversified and comprehensive scheduling software covering all daily commercial and operational tasks) and Aviator Training Manager (e-learning platform for pilots and dispatchers). He has worked in business aviation software design since 1989.
Media Contact:
Philippe Rouin
phil(at)brandingpass(dot)net
+33 6 95 53 66 55
Private remote demo of Jet Scout platform available for journalists.
Feel free to contact us for interviews.