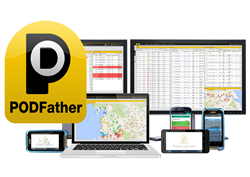 PODFather prevents the risk of NHS assets and health records being lost or misplaced, and improves the scheduling efficiency of our courier operations.
Edinburgh, UK (PRWEB UK) 15 December 2016
PODFather Ltd, a leading mobile workforce management software company, announced today that its route planning and electronic proof of delivery solution has been procured by Cumbria Partnership NHS Foundation Trust.
The deal is a breakthrough into the healthcare sector for PODFather, who will shortly be deploying their solution to track patient records from clinics to hospitals as porters carry them from site-to-site across the whole region.
The PODFather solution includes unique facilities to improve collection round scheduling, route planning and optimisation which will drive efficiencies and ultimately reduce costs for the NHS. The porters will receive instruction about which sites to visit and record patient record bags collected at each site via the PODFather Android application, with the movements visible in real-time.
Stephen Prince, Estates and Facilities Manager for Cumbria Partnership NHS Foundation Trust, said, "We chose PODFather because it will complement our strategy for cost improvements by making positive and sustainable changes to our working processes. It helps prevent the risk of assets and health records being lost or misplaced, and improves the scheduling efficiencies of ad-hoc and regular tasks for our courier operations."
Colin McCreadie, Managing Director of PODFather, adds, "The PODFather Healthcare system is being developed with Cumbria Partnership NHS Foundation Trust so it can be easily adopted by any NHS organisation to streamline admin processes and improve the visibility of the transportation of patient records and other equipment assets as they are moved by the courier teams both within the Cumbria region as well as neighbouring Trusts. We're delighted to be awarded this contract and working with the NHS to introduce more efficient practices."
-ENDS-
About PODFather Ltd, and the PODFather Healthcare solution
Who are PODFather?
PODFather are a cloud software solution company based in Edinburgh, specialising in electronic Proof Of Delivery "ePOD" and route planning systems for logistics, field service, construction and healthcare industries.
What do PODFather provide?
PODFather have developed a mobile workforce management solution for the NHS. Office users access it via the Cloud, and field users (Porters) simply download the App from Google Play Store.

The system is designed to track zip-bags carrying patient records, as the Porters courier them from site-to-site across the whole geographic region.
The system really begins to flourish when it tracks Records crossing into neighbouring Trust's territory.
PODFather will be expanding the system to include the scheduling, route-planning & tracking of all materials moved by the Porters (e.g. Specimens, Mail, Laundry, Dental, Equipment etc).
Why is this important?

The fines for losing Patient Records can be massive - upwards of £400k per Record!
In May 2018 the General Data Protection Regulation is coming into force and fines for breaches could be up to 4% of a Trust's annual turnover.
Benefits to NHS

A single system that can be shared by every Trust to streamline admin processes and management of their Porter courier team. It is easy to procure, easy to implement and easy to use.
PODFather collaborate with Medical Records team, Estates & Facilities and Procurement team.
Works offline - perfect for use in hospital environments and especially in remote areas
Helps prevent the loss of Patient Health Records and eliminate the associated fines.
Helps prevent the misplacement, loss and theft of equipment and related costs.
Reduces the admin time, errors, costs and risks associated with manual and paper-based processes.
Enhances the administrative processes around scheduling both ad-hoc and regular tasks for office staff, Hospital Porters and Facilities Maintenance crews.
Supports GS1-compliant barcode formats, and tracks the movements of items between sites (e.g. Patient Records, Mail, Specimens, Laundry, Dental, etc) and keeps real-time electronic records of all asset movements and tasks completed.
PODFather complements CIP (Cost Improvement Program) strategy for sustainable cost improvements by making admin processes more efficient, improving productivity and promoting operational excellence.