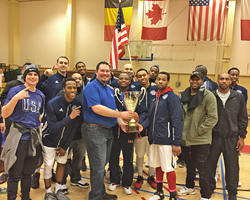 (PRWEB) December 14, 2016
Andrews Federal Credit Union recently served as a sponsor for the International Basketball Tournament held on S.H.A.P.E. The event brought together 10 teams, who played in over 25 games across 6 days, for an intensely competitive tournament.
Players from Belgium, Canada, France, Italy, Latvia, Lithuania, The Netherlands, United Kingdom, United States, and even a true home team made up of S.H.A.P.E. personnel, played their hearts out on the court. The championship game could not be decided in regulation, and went into overtime where Team USA eked out an 87-86 win over Lithuania.
"The International Basketball Tournament is a great example of one of the many ways that NATO works together; even through a competitive basketball game," said Andrews Federal Chievres Branch Manager Joshua Barrett. "We consider it a privilege to be able to sponsor an event that shows the great spirit of community which truly makes S.H.A.P.E. a great place to live and work."
About Andrews Federal Credit Union
Andrews Federal Credit Union was founded in 1948 to serve the needs of military and civilian personnel by providing a vast array of financial products and services. With over $1.2 billion in assets, Andrews Federal has grown to serve more than 119,000 members in the District of Columbia, Joint Base Andrews (MD), Springfield, Virginia (VA), Joint Base McGuire-Dix-Lakehurst (NJ), and military installations in central Germany, Belgium, and the Netherlands. In addition, the Credit Union serves as a financial partner with many select employee groups in Maryland, the District of Columbia, Virginia and New Jersey.
To learn more about Andrews Federal Credit Union and its community involvement, or to become a member, call 800.487.5500 or visit http://www.andrewsfcu.org.