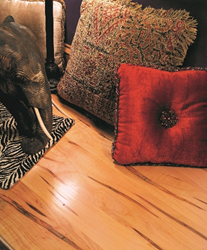 Visit Rehmeyer Wood Floors online at www.rehmeyerfloors.com
Shrewsbuy, PA (PRWEB) December 14, 2016
Rehmeyer Precision Millwork (RPM) is equipped with top of the line German and Italian built moulders, optimizers, profilers, sanders, and support equipment and provides unfinished or finished solid and engineered wood floors and wall panels to specification. RPM markets its wood floors and panels through award winning, nationally recognized brand, Rehmeyer Wood Floors.
Rehmeyer specializes in long length, wide plank flooring and wall paneling with several niche specialities such as classic clear, distressed, vintage, reclaimed, period authentic, time worn, pegs, exotic woods, and engineered wood floors and wall panels. Reymeyer has a large showroom with hundreds of wood panel samples with and without finishes enabling clients to be involved in the design process. Customers are invited to visit RPM's production floor to gain understanding of the process and to witness their floors, wall panels, and accessories being made.
Craftsmanship, commitment, precise and exacting standards in production, vision and artistry in design and construction, and partnering with reputable businesses in selection of wood, wood species, and finishing products, enables RPM to distinctly differentiate its' products in the market and provide its customers with premiere, unique, quality custom wood floors and wall panels. Completion of the entire manufacturing process in house gives Rehmeyer full oversight over production schedules, quality control, and the ability to involve its customers in the design and finishing processes. Accessories such as mouldings, wainscoting, stair parts, floor vents, etc. can easily be customized to match specific selections. Responsible stewardship of our forests through the use of reclaimed wood and timber, development of an engineered wood alternative, and the implementation of green processes in manufacturing and finishes enable Rehmeyer to be responsible partners with its clientele.
Visit Rehmeyer Wood Floors online at http://www.rehmeyerfloors.com and on Facebook, Instagram, and Houzz. Contact Rehmeyer at 717-235-0607 to schedule a consultation in their showroom.