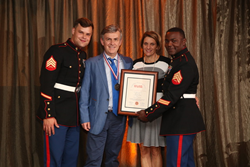 North Andover, MA (PRWEB) December 15, 2016
Dr. Paolo Incampo is more than a local dentist. He is an active and caring member of his community; always active in helping and caring about the quality of life for others. Case in point: Dr. Incampo has been contributing to such benefits as the Boys and Girls Club during their Christmas toy drive; Somebody Cares New England for Thanksgiving and Christmas; Breast Intentions Charity that helps families of the women going through treatment; The local high school; Medical missions to Guatemala and many others. Making a difference means going above and beyond the call of duty. This is also why he joined the fight against illiteracy at this gala and was awarded the Medal of Duty and a Three Star General's Commanders Award, presented by the U.S. Marines.
Looking at the facts, one cannot deny that illiterate children have a high probability to turn into illiterate adults, and those adults who are unable to read at a third-grade level not only feel excluded from society; but they also risk raising illiterate children, as they cannot teach them how to read. According to recent U.S. Census Bureau reports, more than 20% of children under 18 years of age live in poverty—the highest poverty rate in 15 years. That's 15.5 million children. Now, add this to the U.S. Department of Education's National Center of Education statistics whereby 44 million adults are functionally illiterate. Per the Bureau of Justice, about 41% of inmates in the State and Federal prisons and local jails had not completed high school or its equivalent, leading one to wonder, is there a connection to illiteracy, poverty and crime? The harm imposed on our children and future generations can no longer be tolerated. Millions of dollars are spent on education yet the U.S. ranks number 13 internationally. This is unacceptable and evokes a call-to-arms for effective participation by all.
This is what motivated Dr. Incampo and hundreds of attendees of this Gala to participate and ended up ensuring that 110,000 children would receive not only toys for Christmas, which in itself is a great gesture of humanity, but also the gift of literacy. Giving these children a chance to be included and to participate in our society and to succeed.
Dr. Incampo received his doctor of medical dentistry degree from Tufts University, School of Dental Medicine in 1992 and then completed a two-year residency specializing in prosthodontics. Following his residency, Dr. Incampo practiced in an exclusive multi-specialty dental office in Milan, Italy where he worked with talented technicians to restore the smiles of Italian television celebrities and professional athletes. Dr. Incampo returned to Boston in 1995 to provide quality care with an emphasis on excellence. He has been exceeding patient expectations for the past 21 years.
In 2008, Dr. Incampo completed an advanced and intensive implant surgical course from the Misch International Implant Institute and has been placing his own implants ever since. Dr. Incampo is also a surgical implant instructor for International Academy of Dental Implantology. Dr. Incampo continually hones his skills through post-graduate education and through extensive surgical programs in Egypt and Mexico. He has also participated in multiple medical/dental missions trips to Guatemala, Egypt and Mexico.
Paolo Incampo DMD & Associates
451 Andover St #208, North Andover, MA 01845
(978) 794-0750