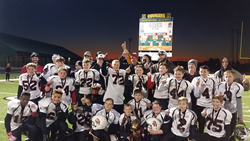 "They practiced and played as a unified TEAM the entire season and their accomplishments are validation. I can't be prouder of these young men..." stated Oak Hills 6th Grade SILVER Head Coach Jim Bauer
Cincinnati, Ohio (PRWEB) December 13, 2016
Oak Hills Youth Athletics (OHYA) 6th Grade SILVER Oak Hills Youth Football Team capped off a 14-0 perfect season with a 2016 Battle in Rocky Top 11U National Championship in Knoxville, Tennessee. OHYA is a youth athletics organization sponsoring multiple sports programing for students in the Cincinnati Oak Hills Schools System. For the first time in the young history of OHYA, the organization has fielded an undefeated football team, Greater Miami Youth Football Conference (GMYFC) Super Bowl Champion, Southwestern Ohio Super Bowl Champion and now an Elite-All Star American Division National Champion at the Battle of Rocky Top.

First EVER National Championship for Oak Hills (Cincinnati)
First EVER Winner of the American (Elite) Division at Battle in Rocky Top – National Finals
First EVER Winner of the Inaugural Southwest Ohio Super Bowl Championship (GMYFC vs OVYFL)
First time EVER an Oak Hills Team has gone undefeated in the GMYFC
First time EVER an Oak Hills team has gone 14-0 overall and accumulated this much hardware
This is the first 6th Grade (11U) youth football team in Oak Hills Local Schools District history to achieve the coveted honor of National Champion. Oak Hills also becomes the first "school team" in the history of the Rocky Top National Championship Tournament to be slated in the American Division for Elite|Select |All-Star Teams and WIN the Division. School team is defined as a team, where all the players are students of only that single school district and typically a school team will play similar competition as in other school teams. Josh Jones, Battle in Rocky Top Tournament Director, stated that "…research depicted this Oak Hills (11U SILVER) Team as reportedly one of the best 11U teams ever to enter the tournament and for that reason they were posted into the nation's most competitive 11U bracket versus select and all-star caliber teams."
According to the Oak Hills 6th Grade SILVER Head Coach Jim Bauer, "These young men established at the start of the season Four (4) Goals: 1. Win the competitive GMYFC League, 2. Win the GMYFC Super Bowl, 3. Win the Southwest Ohio Championship, and 4. Win the National Championship in Tennessee. They practiced and played as a unified TEAM the entire season and their accomplishments are validation. I can't be prouder of these young men, their parents, our coaching staff. The entire Oak Hills community looks forward to their continued success in the coming years."
Oak Hills participated in the upper National Division of the Greater Miami Youth Football Conference (GMYFC), commonly known as the "Little GMYFC." The team completed a 9-0 regular season with victories over Hamilton Blue Stars, Colerain Little Cardinals, Fairfield Indians Youth Football, Middletown Middies Youth Football, Princeton Vikings Youth Athletics, Mason Youth Football Comets and the Lakota East & West Tomahawks Football. Oak Hills also participated in cross-over league games with the Ohio Valley Youth Football League's (OVYFL) Northwest Mighty Knights. All totaled in the regular season the Oak Hills 6th Grade SILVER Team scored 300 points and allowed only 12 points.
GMYFC post season play included a 30-0 Oak Hills 6th Grade SILVER win over the Middletown Middies in the semi-finals. In the GMYFC Super Bowl, played at Princeton High School, the Oak Hills 6th Grade SILVER team delivered a 22-0 victory over the Lakota East Black Team 5 to secure Oak Hills' first ever Super Bowl Championship.
The two post season wins prompted the invitation to the first annual Southwest Ohio Super Bowl Championship to be played at the University of Miami's Yager Stadium in Oxford, Ohio. Oak Hills, as the GMYFC Champions, would play host to the OVYFL League Champion the 6th Grade Edgewood Pee Wee Cougars. Oak Hills went on to win the inaugural championship, by a score of 22-0 and was crowned the 2016 Southwest Ohio Super Bowl Champions.
On the weekend of November 18-20, 2016 Oak Hills Youth Football Team traveled to Knoxville, Tennessee to participate in the 2016 Battle in Rocky Top National Championship Tournament. This year 285 teams, representing 17 states, competed in the championships, across nine age brackets. The five 11U brackets contained 43 teams from 13 states including Missouri, Michigan, Minnesota, Tennessee, Illinois, Indiana, Ohio, Virginia, West Virginia, Kentucky, North Carolina, Georgia and Louisiana. In the American Division (aka: Elite-All Star Division) only six teams: including the Oak Hills 6th Grade SILVER, qualified. These six teams, Germantown Thoroughbreds, Beach Stampeders, EKAA Runners, East End Warriors, West Chester Outlawz and the Oak Hills Highlanders 6th Grade Silver had a combined three losses between them and represented the cream of the crop.
Oak Hills first faced the East End Warriors out of Louisville, Kentucky. After giving up a 70 yard touchdown run on the opening drive, the Highlanders buckled down and denied the two-point conversion, and then scored 14 unanswered second half points to secure the victory.
Championship Sunday in Knoxville meant meeting the winner of the other semi-final game the West Chester Outlaws from West Chester (Cincinnati), Ohio. This was a match-up that the Outlawz had been calling for all year. Both teams were familiar with each other having played in previous years, but this time it was for ALL THE MARBLES. The Outlawz took off to a 14-0 lead at half time dominating the clock in the first half. In the second half was a different story, the Highlander's SILVER team took over and with less than a minute to play after blocking a punt, drove for a touchdown and then the game tying two-point conversion. As time elapsed in regulation, the outcome of the game turned to overtime (OT). Oak Hills received the ball to begin OT and on fourth down from the 14 yard line scored a touchdown and then connected on the two-point conversion to lead 22-14. The Outlawz on their OT possession drove the ball down to the one yard line and on fourth down were denied by the Oak Hills defense. This earned the Oak Hills Highlanders 6th Grade SILVER football TEAM the National Championship Title with a final score of 22-14 in overtime.
Lee Hooks Head Coach of the select West Chester Outlaws shared "Congratulations on a great comeback victory! They (Oak Hills) could have easily folded, but they showed the heart of a true champion! "
Oak Hills Highlanders 6th Grade SILVER Defensive Coordinator Jason Schreiber called it "…an amazing game, an amazing season and a year that couldn't have been scripted any better."
Oak Hills High School Head Football Coach Kyle Prosser stated "What this group of young gentlemen accomplished was amazing. Their unity and coach-ability gives our entire program something to look forward to. I'm very excited to have the entire 6th grade class playing together next year at the middle school. The future is extremely bright for this class and Oak Hills High School both academically and athletically!"
For the season the Oak Hills Youth Athletics 6th Grade SILVER youth football team with their potent pass and run offense, their devastating defense and winning attitude accumulated 14 WINS, scored 410 points and allowed only 32 points against. As for the four goals set at the beginning of the year – WIN the league – CHECK, WIN the Super Bowl – CHECK, WIN the King Bowl – CHECK and WIN a National Championship – CHECK!!!!!!
Congratulations to all the players and coaches of the 11U National Championship Oak Hills Youth Athletics 6th Grade SILVER youth football TEAM.
Combined these students represent ALL three Oak Hills Middle Schools – Bridgetown Middle School, Rapid Run Middle School and Delhi Middle School – these schools are components of the Oak Hills Local School District and eventual feeders to the Oak Hills High School Football Program.
PLAYERS: 1 – Allen Clingempeel II (G | DT), 2 – Bradey LaGreca (RB | C), 3 – Jimmy Bauer (RB | S), 4 – Jaxon Schreiber (QB | S), 5 – Elliot BEEF McMasters (C | LB), 8 – RJ Miller (OL), 11 – Logan Vogt (DB), 13 – Caleb Hassinger (RB | C), 17 – Graig Walker (RB | DE), 18 – Tanner Keller (TE |LB), 22 – Kyle Toon (RB | DE), 23 – Daniel Bibent (OL | DE), 29 – Caleb Pohlmeyer (RB | LB), 44 – Dylan Detlaff (OL | DL), 44 – Wyatt Ferguson (RB | LB), 52 – Cole Beninghaus(OL-G | DL), 60 – Trevor King (OL | DL), 64 – Cade Ehrhart (OL | NT), 72 – Seth Burke (OL | DL), 74 – Drake Ross (OL | DL), 75 – Luke Conway (TE | C)
COACHES: Head Coach - Jim Bauer, Defensive Coordinator – Jason Schreiber, Film/Strategy – Ed McMasters, Assistant Defensive Coordinator – Brian Pohlmeyer, Defensive Assistant – Doug Keller, Offensive Line – Josh Beninghaus, Offensive Assistant – Scott Toon, Offensive Assistant - Rob Blundren, Offensive Assistant – Doug Reynolds, Assistant Coach – Paul Conway, Assistant Coach – Maury Bibent.
These coaches volunteered their time and energy in dedication to the success of these young men.
# # #
About FUSIONWRX – FUSIONWRX.com FUSIONWRX is a marketing activation, client engagement and public relations agency that helps brands connect with their clients, delivering the right message via the right channels at the right time. For businesses that have solidified their brand, crafted their message and know their target audience, the question becomes, "Now What?" and that is where FUSIONWRX takes action. We evoke passion and excitement that motivates your audience to act. FUSIONWRX is a division of Flottman Company. Learn more at http://www.FUSIONWRX.com