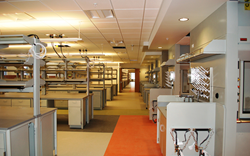 "We can be more detail oriented and offer solutions in real-time."
Salt Lake City, Utah (PRWEB) January 26, 2017
The market for quality laboratory designs and solutions in the Utah and surrounding states has grown in recent years. Haldeman-Homme, Inc., a leading provider of total facility solutions, is meeting that demand by opening a new office location in Salt Lake City, Utah to service Utah, Nevada, and Idaho.
The new office is located in West Valley City and will house three full-time employees. Michael McDonald, Sales Representative, who has been working for HHI in the Salt Lake City area for more than 8 years, Project Manager Thomas Thilman, who relocated from our Denver office in early September, and Field Superintendent Jeffrey Christensen.
"The new location brings project management right to the customer," McDonald says, "We can be more detail oriented and offer solutions in real-time." The location is complete with office space, a small showroom, and a conference room to host local meetings. He says it's a place where we can collaborate and continue to grow our connections without the delay of running projects through the regional office in Denver.
McDonald says one of the benefits to having a local office is also for the face-to-face contact Thilman can have with local contractors and field superintendents. It gives them a place to coordinate and work out bugs before they have a chance to become a larger issue.
A small showroom is planned for the space. It will include laboratory casework, laboratory seating, and laboratory equipment. It's a place current and future clients can see the quality of the products and workmanship first-hand before buying. The showroom is a work in progress, it is schedule to open in the coming months.
Haldeman-Homme, Inc. is a full service supplier of industry leading quality products as well as design, construction, project management, installation, and maintenance services. To learn more about how Haldeman-Homme, Inc. can help you organize workflow and provide more productive and safe work environments visit http://www.haldemanhomme.com