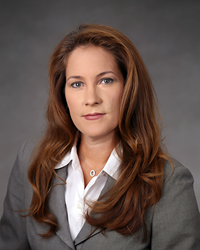 (PRWEB) December 14, 2016
The Wealth Management division of Cherry Bekaert LLP ("the Firm"), one of the nation's largest accounting and advisory firms, is expanding its presence nationally in the South Florida region. The addition of Managing Director Lillian M. Peters, CFP®, CDFA®, who is charged with leading and growing the wealth division nationally, and Senior Financial Advisor Tessie Yuste, CFP®, CIMA®, CDFA®, CTFA, marks a strategic move for increasing the South Florida market and growing client services offerings in the area.
Lillian Peters brings more than two decades of experience in wealth management and financial planning, as well as over 15 years of experience leading private wealth divisions, to her new role as Managing Director of Cherry Bekaert Wealth Management LLC. She joins the Firm after serving in similar capacities for Fortune 500 companies. Peters has also led fiduciary, credit, investments and banking services teams for high-net-worth individuals and families, and private foundations and endowments. She is fluent in Spanish and is an active board member for several regional nonprofit organizations, including the Baptist Health of South Florida Foundation, Florida International University College of Business and The Education Fund.
Tessie Yuste has nearly 10 years of broad range of investment management and financial planning experience as Senior Financial Advisor to high-net-worth individuals and families, business owners, executives, and those undergoing a life transition. She leverages her specialized knowledge in key areas such as divorce, retirement, risk management, investment consulting, and estate planning. Prior to joining Cherry Bekaert, Yuste served in wealth management roles at a leading financial institution, advisory firms and an executive role at a Fortune 100 company. She is fluent in Spanish, and previously volunteered in assisting with the education of military personnel at the U.S. Southern Command Center.
"As we continue strengthening and expanding client services, and ensure our clients benefit from a wealth of diverse perspectives and experiences, the addition of these two professionals to our South Florida market is aligned with the Firm's core values. Lillian and Tessie's collective experience brings valuable expertise to Cherry Bekaert Wealth Management, and their efforts will contribute to better serve the needs of our clients as we continue to grow," says J. Douglass Cates, Tax Partner and Division Executive for Wealth Management Services.
About Cherry Bekaert Wealth Management
Cherry Bekaert Wealth Management brings together years of hands-on, wealth management leadership experience and objectivity. Our mission is to help families clearly define their goals and to design a long-range plan that maximizes the probability of achieving all that is important to them.
We define wealth management as a structured and thoughtful process that provides family- specific investment solutions, advanced planning and relationship management. Our advice is not limited to investments; we can assist families with wealth enhancement, wealth transfer, wealth protection and charitable planning. We lead families through a complex process to help them identify and understand their needs and related investment strategies. The comprehensive nature of this process increases the likelihood of achieving the family's goals. | cbhwealth.com
About Cherry Bekaert LLP
As a nationally recognized, growth-oriented firm, Cherry Bekaert has the resources to take your business as far as you want to go. The Firm's industry specialists already know your marketplace, so they can help you make the most of emerging opportunities while minimizing compliance headaches. With our down-to-earth style and wealth of practical advice, you will find Cherry Bekaert an indispensable part of your team.
Ranked among the largest accounting firms in the country, Cherry Bekaert offers specialized solutions that help advance our clients' business goals. For more than 65 years, global corporations, private businesses, government entities, nonprofits, emerging firms, start-ups and successful individuals have relied on Cherry Bekaert to guide them forward as their growth advisor.
Cherry Bekaert LLP is an independent member of Baker Tilly International. Baker Tilly International is the world's 8th largest accountancy and business advisory network by combined fee income of its independent members. Baker Tilly International member firms specialize in providing accountancy and business advisory services to entrepreneurial, growing businesses and mid-market listed corporates worldwide. | cbh.com