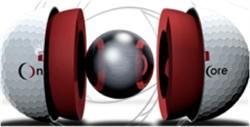 Buffalo, New York (PRWEB) December 14, 2016
OnCore Golf announced today the addition of Brian McGahey as Director of Business and Player Development. With more than 35 years of industry experience spanning iconic brands such as Nike Golf, TaylorMade and New Era Golf, McGahey's insights and Rolodex will prove critical in elevating the revolutionary brand's position within the golf industry and support the launch of their first-ever premium Tour spec ball in early 2017.
Prior to joining Team OnCore, McGahey spent 15 years traveling the world as a Nike Tour Rep across all four major tours including the PGA, LPGA, Web.com and Champions Tours. Overseeing player satisfaction through the ongoing management of equipment needs, Brian has worked with some of golf's most renowned athletes including Tiger Woods, Justin Leonard, Jamie Lovemark and Michelle Wie, among others.
"The opportunity to introduce professional golfers to OnCore Golf was too exciting to pass up," said McGahey. "OnCore has broken into a notoriously difficult industry to penetrate with game-changing innovation and consumer prioritization. This non-traditional approach to the crowded golf arena is rare and refreshing."
As the Director of Business and Player Development, McGahey will focus on expanding Team OnCore's line-up of professional brand ambassadors, strengthening relationships with key golf entities, forging strategic alliances with local and regional golf associations across America and supporting ongoing sales initiatives and programming.
"Bringing Brian onboard is another critical piece of the puzzle as the OnCore story continues to rapidly evolve," said Bret Blakely, Co-Founder of OnCore Golf. "We are thrilled to welcome him to Team OnCore and are confident in his ability to elevate the brand to the next level."
OnCore Golf's premium Tour spec ball will debut at the PGA Merchandise Show in early 2017, joining the brand's breakthrough 'USGA Conforming' hollow metal core Caliber golf ball and the five star-rated Avant which features SoftCell technology to increase feel, durability and distance.
"With the addition of Brian, we couldn't have a stronger team representing OnCore at the PGA Merchandise Show this coming January," said company Co-Founder Steve Coulton. "We can't wait to debut OnCore's next generation of innovation for the world to see."
A scratch golfer and father of three, McGahey is a longtime resident of Hamburg, NY, where he currently resides with his wife of 32 years, Dawn.
For additional information about OnCore Golf, visit http://www.OnCoreGolf.com.
Contact: Curt Rogers | 716.860.2331 | curt(at)kcpublicrelations(dot)com
###
About OnCore Golf
Creating a new paradigm in the world of golf, OnCore Golf is dedicated to setting industry standards in golf ball performance by delivering innovation from core to cover. Beginning with the Caliber – a perimeter-weighted, hollow-core, USGA-conforming golf ball designed to lengthen and straighten flight paths – OnCore has a track record of developing and patenting industry firsts. OnCore Golf's line of products extends to the five star-rated Avant which features SoftCell technology to increase feel, durability and distance, and their first-ever Tour spec ball launching in early 2017. Headquartered in Buffalo, NY, OnCore products are sold in all 50 states and in 21 countries worldwide. For more information, visit http://www.OnCoreGolf.com.