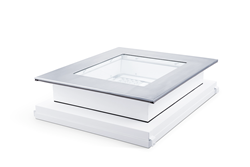 Kenall's New Luminaire Reduces Food Processing Facility Operating Costs Three Ways
Kenosha, Wisconsin (PRWEB) December 14, 2016
Kenall's new EnviroPro™ EPMP Series luminaire is an IP-65 rated, top-serviceable 16"× 20" LED luminaire specifically designed for food processing and production facilities. The EPMP has exclusive optics that distribute light evenly in medium- and high-ceiling applications. Although smaller than other top-access luminaires, it can light spaces with fewer fixtures, thus reducing Insulated Metal Panel (IMP) ceiling cutout by 40%.
Tim Stevens, Kenall's Sealed Enclosure Product Manager, explained how the EPMP saves facilities money: "First, the luminaire has exclusive optics to help distribute the light and reduce glare, which decreases the number of fixtures that must be purchased. Because it is LED, it uses fewer input watts, which lowers energy bills. Finally, the luminaire employs remote heat extraction, which reduces cooling costs and lengthens the life of the luminaire." Together, these features combine to create a luminaire that is ideal for cold storage.
The EPMP expands Kenall's lineup of award-winning LED Food Processing lighting, which includes the EnviroPro Low Bay (EPLB), EnviroSeal™ FES Series and SimpleSeal™ CSEDO. All are sealed to promote cleanability and protect the integrity of the food processing environment.
Kenall Manufacturing was founded in Chicago, Illinois in 1963 and has built a reputation for durable lighting solutions of superior quality and exceptional value. Today, the company focuses on the food processing markets and other types of sealed enclosure luminaires, healthcare, transportation, high-abuse and correctional lighting. Kenall luminaires are designed and manufactured in the USA and meet the guidelines established under the Buy American Act and the North American Free Trade Agreement. For additional information, visit http://www.kenall.com.