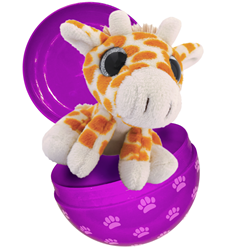 Surprizamals, the ultimate stocking stuffer.
Santa Clarita, CA (PRWEB) December 15, 2016
After its debut earlier this year, Surprizamals, the cuddly small stuffed animals hidden in mystery plastic Surprizaballs, have been soaring off the shelves. Everyone loves plush, and their collectability and charm combined with the surprise effect has toy collectors and kids raging over it. After being launched only a few months ago, the product line is currently the #1 seller on Stuffedanimals.com and has been commended as the ultimate Stocking Stuffer by many toy reviewers and families. At under $5, it is a tremendous value and lends to collectability.
Series 1 of Surprizamals has nearly sold out in several specialty stores and the demand has been positively overwhelming. It found momentum among the blind pack craze and has already sold out in some retailers.
Go to Surprizamals.com for contest and ultra-rare info.
Surprizamals is from Beverly Hills Teddy Bear Company, makers of the best plush on the planet, including the World's Softest and Glow Crazy.
###
About: Beverly Hills Teddy Bear Company is a family owned toy company located in southern California. It's been in business for over 25 years, manufacturing and distributing over a hundred million toys, working with renowned companies such as Disney and WWE. This company prides itself in excellent quality and unwavering integrity, always providing the best service.