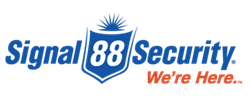 Omaha (PRWEB) December 13, 2016
The nation's largest security franchise, Signal 88 Security, knows that not every family can count on Macaulay Culkin and an elaborate system of booby traps to keep their home safe during the holidays. The leader in creating peace of mind is now using the beloved classic Home Alone to teach homeowners valuable lessons this holiday season on what not to do when skipping town for the family's big Paris getaway so that the only thing to fear is Buzz's girlfriend. (Woof.)
According to the Bureau of Transportation Statistics, homeowners leave their homes unattended for an average of four nights during the Christmas/New Year's holiday, compared to day trips that are often taken for Thanksgiving. But there are precautions to take to help protect travelers from being taken advantage of this holiday season with modern day Harry and Marv's roaming the streets. Signal 88 compiled ten scenes from Home Alone to help keep homes safe from a break-in. Take note, ya filthy animals!
Scene: Marv walks right into the McCallister home only to see the family frantically packing for Paris
Tip: Always lock the door – even if everyone is at home and the neighborhood is seemingly safe.. If the McCallisters had locked their door, Marv would have had to ring the doorbell and a parent would have answered. Instead, he was able to stand in the entrance and scope out the scene at the house, thus getting an idea on the best approach for robbery.
Scene: The block is left dark while all neighbors go on vacation
Tip: Burglars look for occupancy cues like outdoor lights burning 24 hours a day, piled up newspapers, or advertising flyers hanging on the door knob. Even though there were some timed lights, it's important to have a neighbor or friend come over and keep the front of the home clean of paper and debris.
Scene: Almost every McCallister tells Marv they are going out of town
Tip: It's important not to broadcast travel plans. Don't post them on Facebook, don't post them on Instagram, and definitely don't tell a random person.
Scene: The McCallister Christmas tree is sitting in the window with presents for everyone to see
Tip: While a well ornamented tree is a beautiful sight, it is important to be careful about broadcasting the location of valuables for the whole neighborhood to see. Keep decorations visible, but make sure that gifts aren't easily visible to those who may want to play Grinch.
Scene: Harry's head fits perfectly through the doggy door to see inside the McCallister home
Tip: Doggy doors are great for pet owners who don't want to constantly let their dog outside. They are also an invitation for a robber that is looking to scope out the inside of a house. The McCallisters failed to secure their doggy door before leaving for Paris, thus Harry's head was able to fit perfectly through the hole.
Scene: Oh-Kay Plumbing & Heating Van driving all over the neighborhood
Tip: Marv and Harry slowly perused the neighborhood in their decoy plumbing truck as they checked out the scene on the block. Keep an eye out for suspicious trucks and vans, and also keep an eye out for repeat visitors in the neighborhood. If something doesn't feel right, call the (real) cops.
Scene: Marv and Harry try entering the McCallister home several different ways
Tip: A lot of things could have been avoided in Home Alone with a simple motion detector or security system. While Kevin's blowtorch method worked quite nicely at the expense of Marv's scalp, the Wet Bandits would have been able to walk right in had Kevin not been there. With a motion detector or security system, the authorities would have been notified when the duo was lurking around the home.
Scene: Harry and Marv are able to look through the windows and see Kevin putting an ornament on the tree
Tip: When leaving town, make sure to shut all of the curtains. If someone is able to walk up to a window and see inside the home, a roadmap for robbery is essentially created. While it shouldn't look like there is no one home, it is also important that the entire inside of the house is not visible.
Scene: Harry enters the house through an open window
Tip: A sure gut-wrenching feeling when boarding a flight is thinking – are all of the windows shut? The first thing that comes to mind is a rainstorm or rodent getting in; however, in an even worse scenario, someone like Harry is able to pry the window open and fit his body through the space. Make sure to always lock the windows for utmost security.
Scene: Kevin's fear of Old Man Marley (creepy shovel neighbor)
Tip: Find neighbors that can be trusted in a pinch. When the McCallisters left for Paris, they should have had a neighbor available to help in case of an emergency. Even if said neighbor looks like an axe murderer and carries a shovel around. Old Man Marley ended up saving Kevin from a very dangerous situation, and the danger could have been put to rest had they trusted him from the beginning.
While the holidays are known to be the most wonderful time of the year, there are also a lot of dangers involved with leaving a home unattended for an extended period of time. Take a couple of notes from Home Alone and do what Peter and Kate McAllister did not do by following Signal 88 Security's advice. Kevin simply cannot protect all of our homes.
ABOUT SIGNAL 88 SECURITY Founded in 2003 in Omaha, Nebraska, Signal 88 Security is one of the nation's leading security franchises for residential, commercial, retail and institutional customers. Built on the principle that safety is a basic human right and need, Signal 88 offers customized services to keep communities free from harm. This includes the brand's unique patrol method—in which a Signal 88 Security vehicle comes on site multiple times a night to scope out the designated area—as an effective and economical means to deter crime. Signal 88 launched its franchise opportunity in 2008 and currently has more than 170 locations run by local owners and operators nationwide.