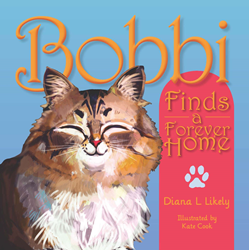 St. Louis, MO (PRWEB) December 13, 2016
Diana Likely will be selling and signing copies of her book "Bobbi Finds a Forever Home" at the Sunset Hills PetSmart on Saturday, December 17, from noon to 4:00 p.m. This coordinates with an adoption event hosted by St. Louis Pet Rescue.
After the holidays, Diana will be reading her book at the Webster Groves Presbyterian Church Early Childhood Center. Details coming soon to http://www.catbobbi.com.
Check out the latest reviews for Bobbi Finds a Forever Home:
"Bobbi is a beautiful Maine Coon cat with a hard past that finds her forever home. In researching the cats, I was impressed with their history and their beauty. The tender story of Bobbi is true to their loving nature. Her story is written in hopes to make people aware of the loving animals out there struggling to survive, and how much they can enrich a life when given a chance." -Story Monsters Ink, November 2016
"'Bobbi Finds A Forever Home' has considerable charm and will likely appeal to young readers, especially those with enthusiasm for animals or whose families are considering adopting a pet…the illustrations are uniquely stylized and attractive. An especially charming picture of Bobbi with Diana captures the book's warmth and message." -blueink Review, November 2016
The fully illustrated book is for children ages five and up. Purchase a copy at: https://mira-booksmart.myshopify.com/products/bobbi-finds-a-forever-home?variant=26957208455
Bobbi loves to receive fan mail at catbobbi(at)outlook(dot)com.
Diana Likely is a retired controller with degrees in English, journalism, and accounting. She also has experience editing and writing. In fact, she wrote, produced, directed, and participated in 5 musical productions--one of which won an International Special Events Society Louie award. For ten years after Hurricane Katrina, she led a group of volunteers from St. Louis each fall to help restore homes damaged by the storm. Diana also sings in her church choir, which has performed at Carnegie Hall and in Edinburgh, Scotland. She enjoys hand drumming, DIY upcycling projects, and interior design. Other interests include landscaping, gardening, and ponding. Diana's 91-year-old mother and Bobbi live with her.